Neil Young acudió al programa de televisión de Jimmy Fallon ayer lunes 12 de mayo de 2014 acompañado de Jack Whte al The Tonight Show Starring Jimmy Fallon, para una entrevista relacionada con su último disco publicado "A Letter Home", y la grabación de una canción compuesta por Willie Nelson "Crazy", grabada en directo en el mismo programa y publicarla en ese mismo instante desde una cabina musical, además de interpretar otra canción al piano dentro de la misma cabina "Since I Met You Baby" de Ivory Joe Hunter.
Neil Young grabando en directo dentro la cabina "Crazy", original de Willie Nelson, durante el programa de televisión de Jimmy Fallon.
"A Letter Home", el nuevo disco de Neil Young interpretando versiones de  Bob Dylan, Willie Nelson, Gordon Lightfoot, Bruce Springsteen, Phil Ochs, Bert Jansch, Tim Hardin, Ivory Joe Hunter y The Everly Brothers que definitivamente verá la luz de manera física a partir del 27 de mayo en diferentes formatos, fue grabado en una cabina musical Voice-o-Graph del 1947, restaurada por el propio Jack White en sus estudios y utilizando solamente una guitarra acústica, piano y armónica.
Copia de la grabación de "Crazy" interpretada por Neil Young en el programa de televisión de Jimmy Fallon.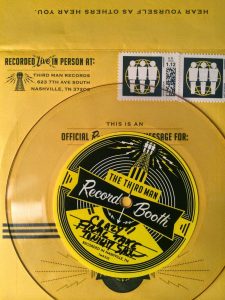 Entrevista de Jimmy Fallon a Neil Young y Jack White.
Neil Young interpreta "Since I Met You Baby" de Ivory Joe Hunter al piano y en la cabina en el programa de televisión de Jimmy