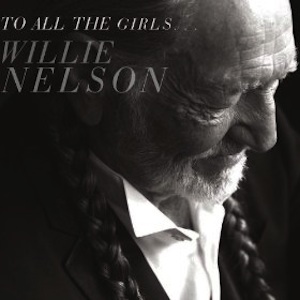 Willie Nelson vuelve a la carga con un nuevo disco de duetos «To All the Girls» el 15 de octubre, un disco de dieciocho canciones cantadas a dúo con mujeres tras su último y reciente trabajo "Let's Face The Music And Dance", publicado el pasado 16 abril para celebrar su 80 cumpleaños y rendir tributo a los compositores y composiciones favoritas durante sus más de cinco décadas en la música, con catorce canciones que van desde el Pop, Rock y Jazz.
Willie Nelson y Dolly Parton.
Willie Nelson se ha rodeado de 18 mujeres y voces espléndidas entre las que destacan Carrie Underwood y Loretta Lynn, con Underwood interpreta el clásico «You Were Always on My Mind», con el que ganó Willie Nelson el Grammy a la canción del año y mejor intérprete masculino de Country en 1982, y con la maravillosa Loretta Lynn «Somewhere Between», canción con la que Nelson también ganaría otro Grammy.
Escucha el nuevo disco de Willie Nelson «To All the Girls»:
Willie Nelson y Mavis Staples.
Dolly Parton, Miranda Lambert, the Secret Sisters, Roseanne Cash, Sheryl Crow, Wynonna Judd, Alison Krauss, Melonie Cannon, Mavis Staples, Norah Jones, Shelby Lynne, Emmylou Harris, Lily Meola, Brandi Carlile, Paula Nelson y Tina Rose completan el cartel de grandes voces del nuevo disco de Willie Nelson «To All the Girls».
Willie Nelson y Sheryl Crow en «Far Away Places».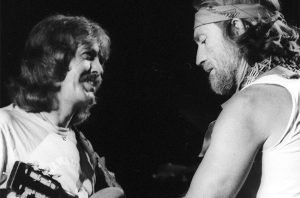 Jody Payne, guitarrista de Willie Nelson durante muchísimos años en su banda falleció el pasado 10 de agosto de 2013 a los 77 años de edad, Payne formó parte de la banda de Nelson de 1973 a 2008, Payne grabó algunas cosas para Motown Records y tocó junto a Ray Price y Merle Haggard. En la década de 1970, estuvo casado con la cantante country Sammi Smith. Su hijo, Wayne Payne, es un notable cantante country y actor.
Escucha el nuevo disco de Willie Nelson «To All the Girls»:
Willie Nelson – To All The Girls track list
1. Dolly Parton — From Here To The Moon And Back
2. Miranda Lambert — She Was No Good For Me
3. Secret Sisters — It Won't Be Very Long
4. Rosanne Cash — Please Don't Tell Me
5. Sheryl Crow — Far Away Places
6. Wynonna Judd — Bloody Mary Morning
7. Carrie Underwood — Always On My Mind
8. Loretta Lynn — Somewhere Between
9. Alison Krauss — No Mas Amor
10. Melonie Cannon — Back On Earth
11. Mavis Staples — Grandma's Hands
12. Norah Jones — Walkin'
13. Shelby Lynne — Til The End Of The World
14. Lily Meola — Will You Remember Mine
15. Emmylou Harris — Dry Lightning
16. Brandi Carlile — Making Believe
17. Paula Nelson — Have You Ever Seen The Rain
18. Tina Rose — After The Fire Is Gone