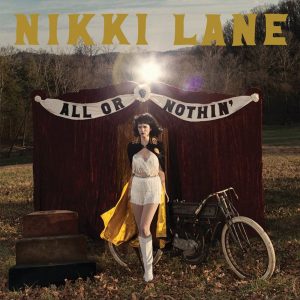 Nikki Lane publica "All or Nothin' " el próximo 6 de mayo, segundo álbum de estudio producido por el cantante de The Black Keys, Dan Auerbach, de esta autèntica y nueva forajida del Country Rock Pop y Hillbilly que ya publicara su primer trabajo "Walk of Shame" en el 2011 con muchos guiños a iconos Country como Patsy Cline, Loretta Lynn, Waylon Jennings, John Prine, Merle Haggard y Dolly Parton.
Nikki Lane interpretando "Gone Gone Gone".
Nikki Lane es natural de South Carolina, y está a caballo entre Nueva York y Nashville, ciudad que grabó sus dos discos y éste último en los estudios Easy Eye Sound, propiedad de Dan Auerbach de The Black Keys, con el que también colaboró en un disco el pasado año en un homenaje al legendario productor y compositor Country Jack Clement (Johnny Cash, Roy Orbison, Elvis Presley, Townes Van Zandt, etc) con una canción de Dolly Parton y Porter Wagoner "Just Someone I Used to Know".
Nikki Lane y sus canciones ahondan en su vida privada llena de desencuentros y engaños amorosos, canciones de una indudable calidad melódica domada con su maravillosa voz que bañan sus discos en Country Rock urbano a la vez que rural.
Escucha "All or Nothin' ", el nuevo disco de Nikki Lane.
"Lies" es un tema perteneciente al anterior disco de Nikki Lane "Walk of Shame" (2011).