Old Crow Medicine Show publican su nuevo y quinto de  disco "Remedy" el próximo 1 de julio, álbum de trece canciones producido por Ted Hutt (Danny and the Champions of the World, The Gaslight Anthem, Lucero) autor también de su anterior disco "Carry me Back".
El nuevo disco de Old Crow Medicine Show "Remedy",  contiene  una canción inédita de Bob Dylan titulada "Sweet Amarillo", desechada durante las sesiones de la grabación de la banda sonora de Pat Garrett and Billy the Kid en 1973 y como ya hicieran en el 2004 con su primer disco homónimo con la canción de Dylan "Wagon Wheel".
Brushy Mountain Conjugal Trailer es el nuevo vídeo de Old Crow Medicine Show filmado en una prisión en Nashville y cuenta con las apariciones Dom Flemons, Marty Stuart y JP Harris.
Old Crow Medicine Show comenzará este mes marzo su mayor gira por Estados Unidos hasta el momento, en el que Europa tiene marcadas ya varias fechas en el mes de octubre en países como Inglaterra, Holanda, Irlanda, Escocia e Irlanda del norte.
Escucha el nuevo disco de Old Crow Medicine Show "Remedy":
Listado de canciones de "Remedy", el nuevo disco de Old Crow Medicine Show:
1. Brushy Mountain Conjugal Trailer
2. 8 Dogs 8 Banjos
3. Sweet Amarillo
4. Mean Enough World
5. Dearly Departed Friend
6. Firewater
7. Brave Boys
8. Doc's Day
9. O Cumberland River
10. Tennessee Bound
11. Shit Creek
12. Sweet Home
13. The Warden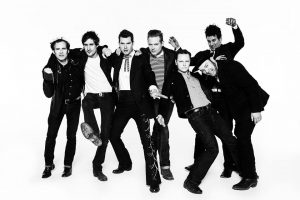 Escucha el nuevo disco de Old Crow Medicine Show "Remedy":