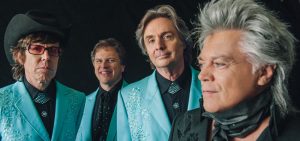 Marty Stuart publica  su nuevo y decimonoveno disco de estudio, doble álbum titulado «Saturday Night & Sunday Morning» el próximo 30 de septiembre, grabado en los estudios RCA de Nashville, en el que dicho álbum está divido en dos partes una primera Country-Honky Tonk y otra Gospel, en la que colabora Mavis Staples y en que su banda The Fabulous Superlatives es la base de apoyo de este artista fundamental y propagador música de raíces norteamericana a través de la radio y de su programa de televisión The Marty Stuart Show.
Marty Stuart publicó recientemente un disco-DVD dedicado al Gospel el pasado mes de abril que llevaba por título "The Gospel Songs of Marty Stuart", un artista, productor, dueño de una discográfica Superlatone desde 2005, ganador de cinco premios Grammy, y ha tenido más de treinta canciones en los más alto del Billboard de música de raíces norteamericano entre 1985 y 2004 y que se formó desde muy joven como guitarrista en la banda del legendario cantante de Blugrass y Country Lester Flatt que trabajó junto a Earl Scruggsy Bill Monroe.
bsp;
Marty Stuart se acompaña de su grandiosa banda The Fabulous Superlatives comouesta por Paul Martin al bajo, Harry Stinson en la batería y el gran Kenny Vaughan a la guitarra y coros.
Marty Stuart es directivo y miembro de la Country Music Foundation, su programa de televisión The Marty Stuart Show se graba en Nashville y está en el airde desde 2008 por el que han pasado las estrellas más importantes de la música de raíces norteamericana.
Marty Stuart es un coleccionista empedernido de objetos relacionados con el Country, el cual posee una de las guitarras de Hank Williams, la acústica Martin D-45 que utiliza en su programa de televisión y conciertos, también está casado con la cantante Country Connie Smith.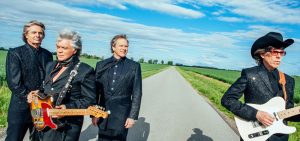 Listado de canciones del nuevo disco de Marty Stuart «Saturday Night & Sunday Morning» :
Saturday Night (Disco 1)
1. Jailhouse
2. I'm Blue, I'm Lonesome
3. Geraldine
4. Rough Around The Edges
5. When It Comes To Loving You
6. Sad House Big Party
7. Talkin' To The Wall
8. Lifes Ups And Downs
9. Look At That Girl
10. Old, Old House
11. Streamline
Sunday Morning (Disco 2)
1. Uncloudy Day (con Mavis Staples)
2. Boogie Woogie
3. Long Walk To Heaven
4. That Gospel Music
5. The Gospel Way
6. Mercy Number 1
7. Firing Line
8. God Will Make A Way
9. Good News
10. Angels Rock Me To Sleep
11. Cathedral
12. Heaven