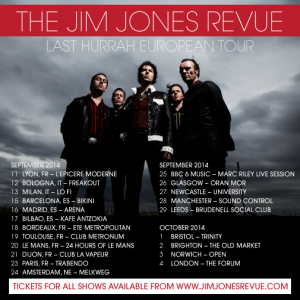 The Jim Jones Revue, la brutal banda londinense de Garage Rock y Blues se separan tras siete años en la carretera con tres discos en su haber, «The Savage Heart» (2012), su último álbum publicado hasta la fecha, por este quinteto liderado por el ex Thee Hypnotics y Black Moses, Jim Jones.
La gira europea  de The Jim Jones Revue denominada «Last Hurrah», comienza el 11 de septiembre en Lion, Francia y en España confirman tres fechas, 15 de septiembre en Barcelona, el 16 en Madrid y el 17 del mismo mes en Bilbao.
The Jim Jones Revue grabarán un nuevo disco en el mes de octubre como colofón a siete años de triunfante trayectoria.
The Jim Jones Revue lo componen Jim Jones, Rupert Orton, Henri Herbert, Gavin Jay y Nick Jones, una combinación entre Johnnie Johnson y Little Richard de manera salvaje y desenfrenada, Rock psicótico, sólo tienes que escuchar su primer y fantástico y homónino disco "Jim Jones Revue" del 2008.
Fechas de la gira española de despedida de The Jim Jones Revue en septiembre.
15 de septiembre en Barcelona, Bikini
16 de septiembre en Madrid, Arena
17 de septiembre en Bilbao, Antzokia