"Deep down Louisiana close to New Orleans, Way back up in the woods among the evergreens, There stood a log cabin made of earth and wood, Where lived a country boy named Johnny B. Goode".
Johnnie Johnson es una de las figuras más importantes fundaciones del Rock'n'Roll, junto a Chuck Berry proporcionaron al género de identidad y misticismo, uno con sus riffs de guitarra afilada y electrizante, y el otro, el gran Johnnie Johnson el piano con un ritmo imparable lleno de swing, Boggie-Woogie y Jazz, que encajaban perfectamente con el Blues de Chuck Berry.
Johnnie Johnson cumpliría hoy 8 de julio de 2013, 89 años de edad, el ex marine de West Virginia, bebedor incansable, músico de Jazz, Blues y Gospel y antiguo miembro de artistas como Muddy Waters, Albert King o Little Walter, formaría una banda de Jazz en Chicago llamada The Sir John Trio.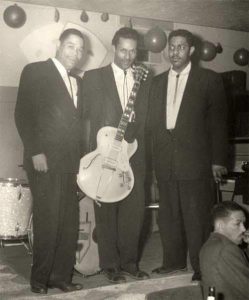 Muddy Waters un fin de año del 52 recomendaría a Johnnie Johnson un joven guitarrista y cantante llamado Chuck Berry para sustituir a su saxofonista habitual por enfermedad, gustó tanto aquella mezcla de Hillbilly, Country y Rythm & Blues, que decidieron tanto Johnnie Johnson al piano, Chuck Berry a la guitarrra y voces y Ebby Hardy a la batería formar un nuevo grupo, Chuck Berry's Trio.
Unos años más tarde en 1955, Muddy Waters habló con Leonard Chess, propietario de Chess Records para recomendarle aquel joven músico que había integrado la banda de Johnnie Johnson años atras para grabar un tema para la discográfica, en el estudio se encontraron Willie Dixon al bajo, Johnnie Johnson al piano y Chuck Berry a la guitarra Gibson ES-335 y voces, grabaron el clásico tradicional y Country "Ida Red".
Willie Dixon y Chuck Berry recompusieron el tema para titularlo "Maybelline", el Rock & Roll con esta canción había comenzado. Willie Dixon puliría las canciones de Chuck Berry, siendo el arquitecto espiritual de casi toda su obra, y Johnnie Johnson sería el piano y alma de todas las canciones de Chuck Berry durante más de dos décadas de colaboración con canciones que van desde "School Days", "Carol", "Nadine", "Oh Baby Doll", "Rock & Roll Music", "Reelin' and Rockin'", "Sweet Little Sixteen", "Route 66", "Come On", "Little Queenie o "Johnny B. Goode", inspirada y dedicada a su compañero e insaparable amigo y pianista Johnnie Johnson, "Johnny pórtate bien", canción que habla de un joven pueblerino que tiene el sueño de convertirse en una estrella a base de arduo esfuerzo y su destreza tocando la guitarra.
Escucha Johnnie B. Bad de Johnnie Johnson.
En 1973 el dúo Johnson-Berry toman caminos diferentes, algunas biografías aducen a problemas de alcoholismo de Johnson y otros a el final de una etapa, Johnnie Johnson seguiría tocando en algunas bandas de su lugar de residencia que era St. Louis, compaginándolo con su nuevo trabajo el de chófer de autobuses.
Y es a finales de los años ochenta, con el genial filme de Keith Richards, Hail! Hail! Rock 'n' Roll (1987), cuando regresaría por la puerta grande gracias al Rolling Stones, y otros músicos como Eric Clapton o George Thorogood.
Johnnie Johnson grabaría dos discos Blue Hand Johnnie (1987) y Johnnie B. Bad (1991), magnifico disco de doce canciones en el que participaron Keith Richards, Eric Clapton, Steve Jordan o Bernard Fowler.
Johnnie Johnson y su piano se marchaba un 13 de abril de 2005, a los ochenta años de edad, tras una "extraña" disputa final de derechos de autor y royalties de canciones de Chuck Berry con co-autoría Johnson, un juez dos años más tarde desestimaría la causa, caso bastante extraño para esperar 40 años para pedir una solicitud como aquella.
Johnnie Johnson entró a formar parte del Rock & Roll Hall of Fame en el año 2001 de la mano de Keith Richards.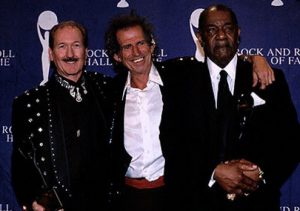 En Fairmont, Virginia, su ciudad natal, celebra cada año un festival de Jazz denominado The Johnnie Johnson Blues & Jazz Festival, como tributo a uno de los arquitectos y fundadores del Rock'n'Roll con mayúsculas, ese Blues y Boogie-Woogie acelerado de su piano con trazas de Country y del Jump Blues que contaban historias con mucho doble sentido sobre la sexualidad, los coches y el nuevo estilo de vida de finales de los años cincuenta y sesentas.
Go go go Johnny go, Go, Johnny B. Goode!!