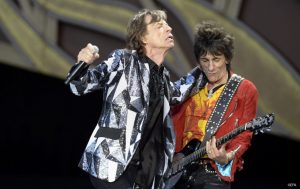 The Rolling Stones tocaron hoy en el estadio Letzigrund Stadium de Zürich en Suiza, su tercer concierto de la gira europea 14 ON FIRE Tour antes más de cincuenta mil seguidores, en el que Ronnie Wood celebró su 67 cumpleaños y su 39 aniversario desde que tocará su primer concierto con la banda un 1 de junio 1 de 1975 en Los Angeles, en el L.A. Forum.
The Rolling Stones interpretaron diecinueve canciones, todas ellas interpretadas tanto en Oslo como en Lisboa hace unos días, no hubo ninguna añadidura al set list o invitado especia en este concierto en Suiza.
Set List The Rolling Stones en Zürich 1 de junio 2014
1 Start Me Up
2 You Got Me Rocking
3 It's Only rock and Roll
4 Tumbling Dice
5 Worried About You
6 Doom And Gloom
7 Let's Spend The Night Together
8 Out Of Control
9 Honky Tonk Women
10 You Got The Silver (Keith Richards)
11 I Can't Be Seen (Keith Richards)
12 Midnight Rambler (Mick Taylor)
13 Miss You
14 Gimme Shelter
15 Jumpin' Jack Flash
16 Sympathy For The Devil
17 Brown Sugar
Bises
18 You Can't Always Get What You Want
19 (I Can't Get No) Satisfaction (Mick Taylor)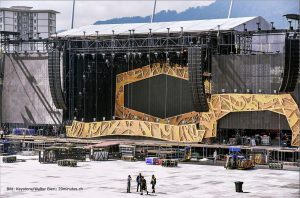 Fechas de la gira europea de The Rolling Stones
26 de mayo en Oslo (Noruega) en el Telenor Arena
29 de mayo en en Lisboa (Portugal) Rock in Rio Lisboa Parque Bela Vista
1 de junio en Zurich (Suiza) Letzigrund
4 de junio en Tel Aviv (Israel) en el Park Hayarkon.
7 de junio en Landgraaf (Holanda) en el Pinkpop 2014
10 de junio en Berlín (Alemania) en el Waldbuhne .
13 de junio en París (Francia) en el Stade de France
16 de junio en Viena (Austria) en el Ernst Happel Stadium
19 de junio en Dusseldorf (Alemania) en el Esprit Arena
22 de junio en Roma (Italia) en el Circo Massimo
25 de junio en  Madrid (España) en el Estadio Santiago Bernabéu
28 de junio en Werchter (Bélgica) en TW CLassic 2014
1 de junio en Estocolmo (Suecia) en el Tele2 Arena
3 de julio en Roskilde (Dinamarca). Último concierto de la gira europea.