Ronnie Wood es el adolescente eterno de The Rolling Stones, vástago de nómadas gitanos, nacido en Londres, cumple hoy 66 años, y tras forjarse en bandas como The Birds, Creation, The Jeff Beck Group o The Faces, cumpliría el sueño de pertenecer a la banda más grande del planeta, siendo la contribución funky, perfecta para la banda.
Mujeres, borracheras, su programa de radio y televisión "The Ronnie Wood Show", gloriosos discos con Faces, los cinco para enmarcar, su casa y estudio The Wick en Londres, la pintura,  el vodka, su reclutamiento en los Stones en aquellos maravillos veinte conciertos con Keith Richards en The New Barbarians en 1979, su primera aportanción en los Rolling Stones en el 73 tocando en "It's Only Rock'n Roll (But I Like It)" y su reclutamiento definitivo a la banda en 1975 en varias canciones del disco "Black and Blue" tras descartarse entre otros a monstruos como Rory Gallagher, Shuggie Otis, Peter Framptom o Jeff Beck entre otros para suplir al genial Mick Taylor.
Al contrario que Keith Richards sus dedos tocan la guitarra de manera crujiente y beat característico que propulsa y da combustible a las canciones de los Rolling Stones, debido a toda esa influencia de música negra, Blues de raíces y Country sus inconfundibles y sucios shuffles a modo de Boogie-Woogie o Reggae muchas veces, acompañados de esa voz áspera y lija.
Ronnie Wood sería la mano derecha del diablo, es decir de Keith Richards, el buen humor y la carcajadas intercedieron entre las tensiones entre Jagger y Richards, sus dos botellas diarias de vodka y Guiness no podían faltar nunca.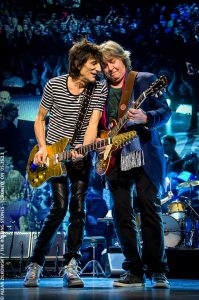 Ronnie Wood pese a no ser un solista como Mick Taylor, o guia del sonido como Brian Jones en sus inicios, su energía contagiosa y fuerza vital lo convirtieron en un guitarrista además de entretenimiento en excelente, a pesar de siempre estar casi siempre colocado.
Ronnie Wood ha publicado hasta el momento siete discos en solitario, cinco directos y uno a dúo con Ronnie Lane, como sus antecesores Jones y Taylor, toca el slide, el lap steel  pedal steel, el bajo en muchas ocasiones y batería en el álbum Dirty Work.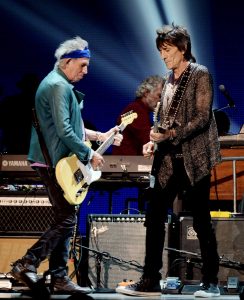 Las joyas de la corona para Ronnie Wood son sus Stratocasters de 1955 y 1954, una Gibson Firebird, una Zemaitis Disc Front que tiene desde la época de The Faces, su Weissenborn, o una Gibson SJ200 de 1950.
Su maravillosa y delirante libro de memorias, "Ron Wood, memorias de un Rolling Stone", o sus tres matrimonios, el último con a actriz y modelo Sally Humphreys, aunque estuvo casado dos veces, con Krissy Findlay y, Jo, con la que compartió 24 aaños de relación, llevando a la separación en 2008 con aquel affair con la camarera de 21 años, Katia Ivanova, y otras relaciones cortas con las modelos Ana Araujo y Nicola Sargent.