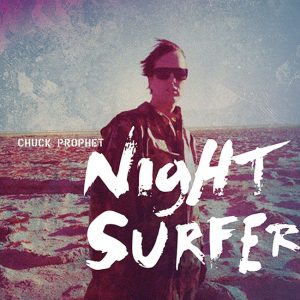 Chuck Prophet anuncia nuevo disco de doce canciones titulado "Night Surfer", décimo tercer album producido por Brad Jones (Els Pets, Cotton Mather, Imperial Drag) y Paul Kolderie (Pixies, Warren Zevon, Uncle Tupelo) para el próximo 23 de septiembre y nueva gira española para los meses de octubre y noviembre de 2014 con varias fechas confirmadas tras su anterior y magnífico trabajo "Temple Beautiful" editado en el 2012 y en el que el tema "Wish Me Luck" es su primer single adelanto.
Escucha "Wish me Luck", primer single del nuevo disco de Chuck Prophet "Night Surfer".
Chuck Prophet contó con la colaboración para elaboración de su nuevo disco "Night Surfer" de Peter Buck, ex R.E.M y es más que probable que se publique también un DVD con la actución de Chuck Prophet en el Great American Music Hall de San Francisco, como el disco en septiembre próximo.
"Night Surfer", el nuevo disco de Chuck Prophet ha sido grabado en los estudios de San Francisco Decibelle Recording Studio y en Nashville en Alex the Great.
Listado de canciones de "Night Surfer", nuevo disco de Chuck Prophet.
1. Countrified Inner City Technological Man
2. Wish Me Luck
3. Guilty As A Saint
4. They Don't Know About Me and You
5. Lonely Desolation
6. Laughing On The Inside
7. If I Was A Baby
8. Ford Econoline
9. Felony Glamour
10. Tell Me Anything (Turn To Gold)
11. Truth Will Out (Ballad of Melissa and Remy)
12. Love Is The Only Thing
Chuck Prophet es uno de los grandes compositores y cantante norteamericanos más respetados e importantes desde que comenzase a forjar su carrera a mediados de los años ochenta con la maravillosa banda Green on Red de su amigo Dan Stuart, auténtico referente del Country Rock norteamericano, con sonidos desérticos y arcillosos de Rock fronterizo junto a bandas tan importantes como Son Volt, REM, The Blasters o The Long Ryders.
Fechas de la gira española de Chuck Prophet 2014:
31 octubre de 2014 en  Andoain, Auditorio de Bastero
1 noviembre de 2014 en Madrid, Sala El Sol
2 noviembre de 2014 en Valencia, 16 Toneladas
3 noviembre de 2014 en  Barcelona, Sidecar
Escucha varias canciones del nuevo disco de Chuck Prophet "Night Surfer":
Trailer del concierto de Chuck Prophet "Stings in the Temple" de Chuck Prophet grabado el año pasado y que será publicado en DVD, celebrado en el Great American Music Hall de San Francisco.