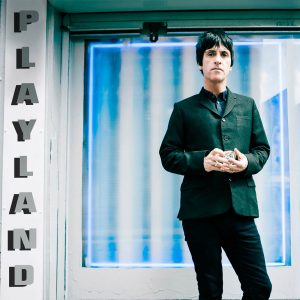 Johnny Marr ex mano derecha de Morrissey en The Smiths  acaba de anunciar la publicación de su nuevo disco titulado «Playland» para el próximo 6 de octubre. Once nuevas canciones tras su debut en solitario el año pasado con el magnífico «The Messenger».
Johnny Marr uno de los mejores guitarristas de los últimos tiempos en Inglaterra junto a The Smiths, y de bandas como Modest Mouse, The The, The Cribs, Healers o Electronic presenta once nuevas canciones coproducido por el propio Marr y Doviak.
«Easy Money» es el primer adelanto del nuevo disco de Johnny Marr.
Listado de canciones del nuevo disco de Johnny Marr «Playland»:
1. Back In The Box
2. Easy Money
3. Dynamo
4. Candidate
5. 25 Hours
6. The Trap
7. Playland
8. Speak Out Reach Out
9. Boys Get Straight
10. This Tension
11. Little King»
https://youtu.be/bB5bSZmuP90