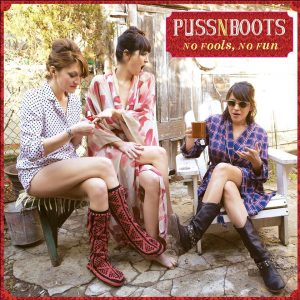 Puss N Boots es un grupo de Country alternativo formado por Norah Jones, Catherine Popper bajista de Ryan Adams and The Cardinals, Grace Potter and The Nocturnals entre otros, y la músico de Jazz Sasha Dobson y que cuenta con doce canciones, cinco de ellas genuinas y las otra siete restantes versiones de Johnny Cash, Wilco, Neil Young, Rodney Crowell, Tom Paxton, Robbie Robertson o Jeb Loy Nichols  algunas de ellas interpretadas en directo y publicado el 15 de julio por el sello discográfico Blue Note.
Puss N Boots se formó en el 2008 tras conocerse Norah Jones y Sasha Dobson en Nueva York la última como profesora de guitarra de la hija de Ravi Shankar y su hermana Anoushka Shankar, Norah Jones, desde entonces han participado en algunos conciertos y festivales todos estos años y cuando se lo han permitido otros proyectos de Norah Jones como The Little Willies, Wax Poetic o su reciente encuentro con Billie Joe Armstrong.
Puss N Boots presentarán su nuevo disco «No Fools, No Fun» producido por Joel Hamilton y grabado en los estudios Studio G en Nueva York, en una nueva edición del Newport Folk Festival (26 y 27 de julio).
Norah Jones participa en el disco con su voz, guitarra y violines «Don't Know What It Means» es su único tema original compuesto para el disco, Catherine Popper, bajista, voz y guitarra acústica, además de pertenecer a bandas como bajista de Ryan Adams and The Cardinals, Grace Potter and The Nocturnals ha participado en discos y giras de Hem, Levon Helm, Michael Stipe, Karen Elson, Rhett Miller, Jim Campilongo, Peter Rowan and Tony Rice, Norah Jones, Mark Olson,  Kevn Kinney o de aparecer en el último disco de Jack White «Lazaretto» (2014) ha compuesto para este disco «Always» y «Pines».
Escucha «No Fools, No Fun» de Puss N Boots.
Sasha Dobson a la batería, voz, bajo y guitarra acústica es una joven promesa del piano en Norteamérica, el año pasado participó en el Farm Aid y abrió varios conciertos de Willie Nelson en su gira por Estados Unidos.