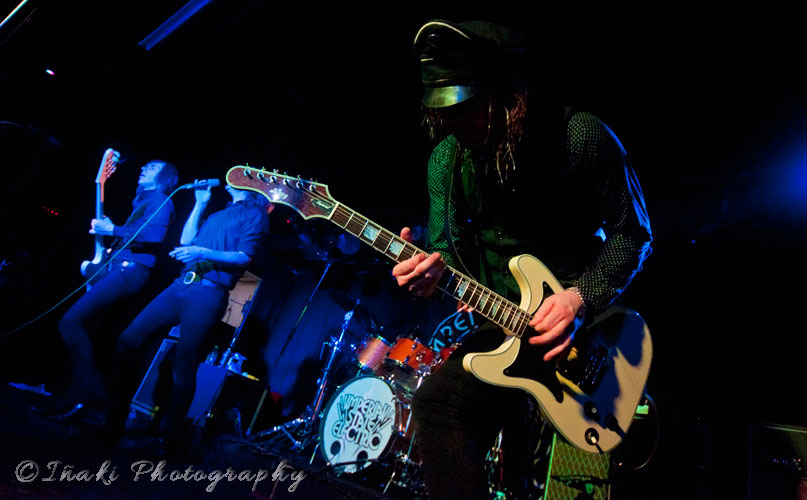 Imperial State Electric, el eco de toda una década.
Allá por los 50 se popularizó lo que todos conocemos como, el rock and roll; Berry, Cochran, Richard, Diddley o Waters pusieron unos cimientos, que poco a poco fueron desarrollándose y fueron evolucionando, las dos décadas siguientes fueron decisivas, la de los 60 y la de los 70, herederos o deudores de ésta ultima, son el nuevo proyecto en el que se embarcó Nick Royale tras su etapa de Hellacopters.
Ante una sala El Loco prácticamente a full el pasado 13 de septiembre, el combo sueco dió un auténtico recital y un soberano repaso, como era de esperar tras oir sus trabajos hasta la fecha, a casi todo el elenco de bandas de los setenta que se pueda imaginar, de T. Rex a Slade ("Uh huh"), del pop de los Cheap Trick ("enough to break your heart"), Raspberries o Artful Dodger ("sheltered in the sand"), a Deep Purple ("empty hands") o de Blue Oyster Cult a Grand Funk Railroad ("stay the night"), pasando por encima de Rod Stewart ("Maggie May"), de Thin Lizzy ("can't seem to shake it"), de versiones de los Kiss ("black diamond") o de los Dead Boys ("sonic reducer"), Nick y los suyos se atrevieron con todo y todo lo ejecutaron con una solvencia pasmosa, sin poses pretenciosas, como una banda auténtica que disfruta con lo que hace, más allá de cómo lo hace.
Por si a alguien le quedaba duda, ahí dejaron también ese ("i'll let you down") para demostrar que ellos también saben que en los sesenta ocurrió algo que se dió en llamar beat. Habrá quien oiga entre sus canciones ecos de otras bandas, los setenta fueron la última gran década para la historia del rock and roll, y los Imperial State Electric representan como nadie que hubiera visto hasta ahora, a los ecos de toda esa década.