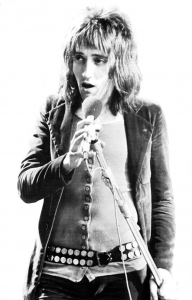 Rod Stewart cumple hoy 10 de enero de 2014, 69 años de edad, su voz rasposa y su estilo macarra elegante con leotardos de tigre y  boa de plumas al cuello, formando parte de The Jeff Beck Group, The Faces o en solitario forjaron su leyenda salpicada de un historial de excesos, "fútbol, mujeres y alcohol", la respuesta saludable a "sexo, droga y Rock and Roll".
Rod Stewart londinense pero de padres escoceces se vería atrapado por el Blues, Folk y el Rock sureño a comienzos de los años setenta, fue descubierto en el andén de un metro, a partir de entonces el británico se convertiría en uno de los mayores talentos de la historia del Rock and Roll.
Rod Stewart se formó, aprendiendo de los mejores guitarrista y músicos de la historia como Jeff Beck, pionero guitarrista del Heavy-Blues-Rock-Steam, y  junto al trío espectacular Ronnie Lane (uno de los mejores bajistas y compositores de la historia del Rock), Ronnnie Wood (sin comentarios) e Ian McLagan en The Faces.
Combinación todos ellos como amantes del Blues, Funk y Folk, pero en definitiva un cantante de blues, Rod Stewart, teniendo a Ian Stewart como Road Manager, el eterno cuarto Rolling Stones, y entre Led Zeppelin y The Kinks, por poner dos ejemplos, estaban ellos y ahí Rod Stewart.
El legado musical de Rod Stewart son los Georgia Satellites de Dan Baird en sus raíces crudas, explosividad en los Replacements, espíritu combativo de los Oasis, el desorden de sastre de The Black Crowes y los orígenes de Guns N Roses.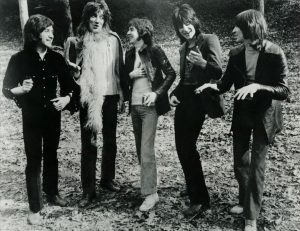 "Stay with Me", "You wear it well", "Cindy Incidentally", "Oh La la", "Bad 'N' Ruin", "Love Lives Here", "First Cut is the deepest", "Reason to believe", "Tonight is the night", "Forever young", "Twisting the night away", "Baby Jane", "You are in my Heart", "Have I told you lately", el impresionante testimonio del Crazy Horse de Neil Young Danny Whitten, "I don't want to talk about it", "Maggie May", una de las mejores canciones de la historia del rock, "Do Ya Think I'm sexy", "Some guys have all the luck" o "Some guys have all the luck", "Maggie May" son algunos ejemplos que representan la personalidad de este icono del Rock llamado Rod Stewart.
En historias que hablaban de billares, chicas, pubs, empleo, orgías, fiestas, bacanales, desenfreno, fútbol, destrozo de hoteles, misoginia, whisky, son la herencia de las letras del "boy band", que era como se le conocía a Rod Stewart.