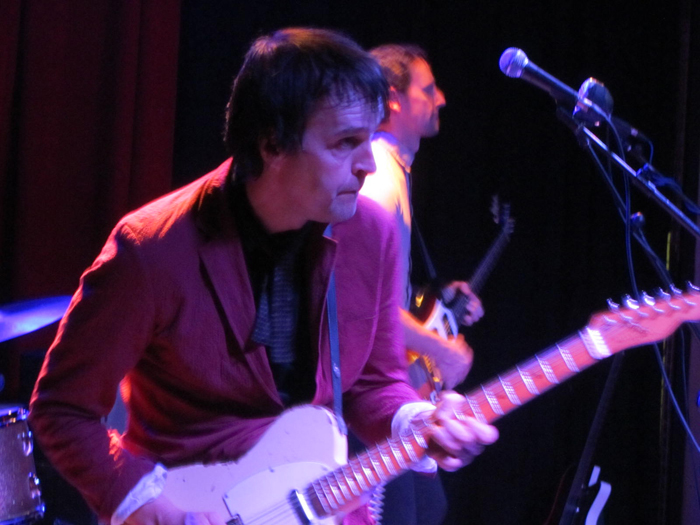 Chuck Prophet inauguraba la programación de conciertos del mes de Noviembre en la Sala El Sol de Madrid. Con disco bajo el brazo, «Nigth Surfer», venía el cantante guitarrista estadounidense acompañado por The Mission Express  a presentarlo al público madrileño dentro de una gira con  cuatro fechas por el estado.
Atrás quedaron los años con Green On Red, su dilatada carrera en solitario engloba trece trabajos de los que se nutrió el repertorio ofrecido ante una más que aceptable respuesta del público. Rock sin precedentes, en estado puro, sin decorados ni artimañas…. tres músicos que muestran su máxima competencia y dejan paso al protagonista que mantiene su estatus de culto sin lograr saltar un peldaño más y llegar a un mayor número de seguidores.
También cabe la posibilidad de que Chuck Prophet  mantenga esta actitud y pase olímpicamente de grandes producciones,  grandes giras y prefiere sentir el calor del público en clubes de pequeño aforo, charlar después del concierto con todo aquel que se le acerque…. sentir que su música llega realmente a aquellos que apuestan por su proyecto. El caso que sea como fuere el concierto del pasado 1 de Noviembre volvió a gustar a todos los que nos dimos cita.
Chuck Prophet y su música atrajo a gente de los más recónditos lugares de la península y de las islas cosa que le enorgullece ya que pocos tienen esa capacidad de convocatoria.
Directo a la llaga Chuck Prophet, enérgico…. como viene siendo habitual en él, su lucha por cambiar algo aunque solo sea con unas estrofas a golpes de rock suelen calar hondo en la sesera del personal.
Chuck Prophet el sufero nocturno de San Francisco se rodeó de su banda The Mission Express compuesta por James DePrato, Kevin t. White, su nuevo componente a la batería Vicente Rodriguez y sin su esposa Stephanie Finch.
A destacar del sensacional setlist del concierto de Chuck Prophet & The Mission Express el pasado 1 de noviembre de 2014 en Madrid, su abrasador comienzo con sus particulares homenajes a Lou Reed y su canción «Rock'n'Roll Heart», el intro de la obra maestra de Creedence Clearwater Revival «Lodi» en «Wish me Luck», su «Bangkok» de Alex Chilton y «Shake Some Action» de los maravillosos Flamin' Groovies.
Vídeo reproductor del concierto en Madrid de Chuck Prophet & The Mission Express el 1 de noviembre 2014.
Entrañable y emocionante concierto de Chuck Prophet en Madrid el pasado sábado, un artista como la copa de un pino, de raíces norteamericanas, un auténtico corredor de fondo y de una sencilla manera de ser como pudimos comprobar al final del concierto durante una larga charla y a todos los allí presentes proyectando esa sensualidad, defendiendo preciosas composiciones y traspasándolas hacia nosotros.
Queda claro que los que buscamos respuesta en Madrid, la encontramos sin ningún tipo de duda, «You Did» (bomp shooby doobie bomp)!!!
Jonah Tolchin, el cantautor de New Jersey abrió la noche del concierto de Chuck Prophet & The Mission Express en Madrid.
Fotos, texto y vídeos de Ángel M. Hdez Montes y Carlos Pérez Báez.