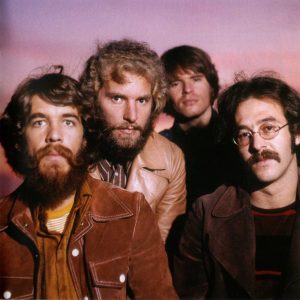 Creedence Clearwater Revival reeditan una caja compuesta por sus seis álbumes de estudio el próximo 11 de noviembre, dos discos en directo y material inédito previo a la formación de la banda como «The Golliwogs» o «The Blue Velvets», en un total de 121 canciones a traves del sello discográfico sello Concord Music entre los años 1967 y 1972.
Creedence Clearwater Revival publicaron en cuatro años siete álbumes de estudio, la nueva caja recopilatoria incluye el periodo entre 1961 y 1966 en el que los John Fogerty, Tom Fogerty, Stu Cook y Doug Clifford naturales de El Cerrito en el East Bay de San Francisco se denominaban de otra manera.
CCR, Creedence Clearwater Revival, probablemente la mejor banda de Rock and Roll de Norteamérica, naturales del embrión musical de la psicodelia, la revolucionaria San Francisco, llena de activistas, radios pioneras de rythm & blues, blues, soul y country, fueron el caldo de cultivo para la banda, el sonido guitarrero de Scotty Moore, Steve Crooper y James Burton, llaman la atención.

Creedence Clearwater Revival supo aunar como nadie Rock y Swamp Rock,ese crujido que sale de su guitarra con aromas y regusto a Blues sureño aderezado con Rock, Country y Western fundido con acordes básicos.
Creedence Clearwater Revival pubicarons seis obras maestras entre 1968 y 1972 (Creedence Clearwater Revival (1968), Bayou Country (1969), Green River (1969), Willy and the Poor Boys (1969), Cosmo's Factory (1970), y Pendulum (1970), veinte números uno, más de cien millones de discos vendidos y más de una veintena de discos de platino y oro.
Esta nueva reedición de la caja de Creedence Clearwater Revival se lanzó en el año 2001.