The Parson Red Heads y Doug Paisley anuncian gira por España a partir del 3 de octubre dentro del ciclo de conciertos ciclo Music From The Trees y que cuenta además con los artistas Josh Rouse y Wesley Stace conocido como John Wesley Harding.
The Parson Red Heads, cuarteto norteamericano Country Folk Rock Pop originario de Portland que presentará su recopilario en España "In a Hazy Dream (Retrospective 2004-2014)", celebrando sus diez años de andadura y cuatro álbumes de estudios editado esta excelente banda compuesta por Evan Way, Brette Marie Way, Sam Fowles y Robbie Augspurger en el que han dado rienda suelta a por la tradición pura y dura, esa que también habían encarnado artistas admirados como Gram Parsons, Chris Hillman, Amazing Rhythm Aces o Dillard & Clark.
Doug Paisley  espléndido cantautor canadiense natural de Toronto a caballo entre Kris Kristofferson, Gordon Lightfoot, Old 97's o Bonnie Prince Billy con e l que grabó un single recientemente y ha compartido gira, añade poesía a su Folk Country Rock a sus tres álbumes de estudios publicados hasta la fecha, su último Strong Feelings (2014) una absoluta maravilla y elegido por dirty rock magazine como uno de los mejores discos internacionales del 2014.
Doug Paisley compartirá escenario con The Parson Red Heads en Bilbao, Valencia, Madrid y Zaragoza.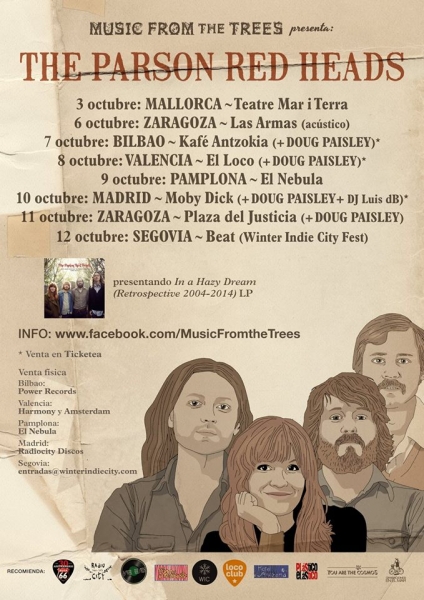 Escucha "Strong Feelings" de Doug Paisley.
Escucha el último single interpretado por Doug Paisley junto a Bonnie Prince Billy.
Fechas de la gira española 2015 de
3 de octubre en Palma de Mallorca The Red Parson Heads , Teatre Mar I Terra
 6 de octubre en  Zaragoza  The Red Parson Heads, Las Armas, acústico
7 de octubre  en Bilbao The Red Parson Heads + Doug Paisley, Kafé Antzokia
8 de octubre en Valencia The Red Parson Heads + Doug Paisley, Loco Club
 9 de octubre en PamplonaThe Red Parson Heads, El Nébula
10 de octubre en Madrid The Red Parson Heads + Doug Paisley + DJ Luis DB, Moby Dick
 11 de octubre n Zaragoza  The Red Parson Heads + Doug Paisley, Plaza del Justicia
12 de octubre en Segovia The Red Parson Heads en Segovia Beat – Winter Indie City Fest