Neil Young publica  «Bluenote Café», disco en directo que grabó durante la gira de presentación del disco «This Note's for You» (1988) con una súper banda compuesta por Rick Rosas, Chad Cromwell, Frank Sampedro, Steve Lawrence, Ben Keith, Larry Cragg, Claude Cailliet, Tom Bray, John Fumo, Billy Talbot y Ralph Molina dentro de su serie de archivos en forma de conciertos Neil Young Archives, la undécima, dentro de su etapa más funky en doble cd y cuádruple LP.
«Bluenote Café» de Neil Young se grabó en diferentes localizaciones durante su gira de presentación en 1988 en lugares como The World en New York,  el Agora Ballroom en Cleveland,en el Pier 84 en Nueva York, el Fillmore en San Francisco, CNE en Toronto y el the Palace en Hollywood, en Los Angeles.
Escucha  «Bluenote Café» de Neil Young.
Neil Young publicó This Note's For You  antes del clásico Freedom de 1989,  considerado como el regreso del músico a su línea más prometedora, tras realizar en los ochenta discos tan insóticos y chocantes experimentos con su electrónica en el Trans, el neurótico Landing On Water, el rockabilly Everybody's Rocking o el country Old Ways, desorientando a todos sus llevar y acabar con la paciencia del dueño de la discográfica David Geffen, éste demandándole por más de tres millones de dólares, y expulsándolo en 1987 tras el realizar Life.
La leyenda cuenta que Neil Young realizó esos discos tan desconcertantes para fastidiar al propio David Geffen como estrategia, tras ser su mánager en Crosby, Stills, Nash & Young.
Neil Young publicará su nueva entrega dentro de esta serie de archivos Archive Performance Series, su gira de 1983 junto a los Shocking Pinks presentando su horrible etapa en el Rockabilly con Everybody's Rocking.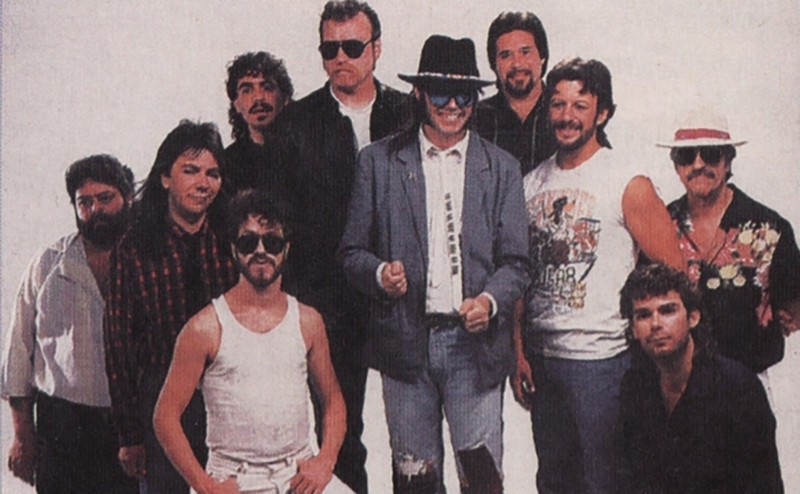 Listado de canciones de «Bluenote Café» de Neil Young.
Disco 1:
1. Welcome to the Big Room
2. Don't Take Your Love Away From Me
3. This Note's For You
4. Ten Men Workin'
5. Life in the City
6. Hello Lonely Woman
7. Soul of a Woman
8. Married Man
9. Bad News Comes to Town
10. Ain't It the Truth
11. One Thing
12. Twilight
Disc 2:
1. I'm Goin'
2. Ordinary People
3. Crime in the City
4. Crime of the Heart
5. Welcome Rap
6. Doghouse
7. Fool For Your Love
8. Encore Rap
9. On the Way Home
10. Sunny Inside
11. Tonight's the Night