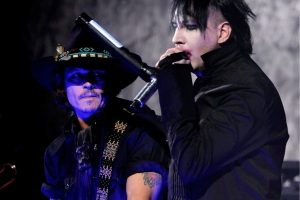 El clásico de Carly Simon y Mick Jagger a los coros,"You're so vain" es la nueva canción de Marilyn Manson, en la que el actor y amigo Johnny Depp colabora en el nuevo disco de Manson "Born Villain" como os contamos en un reciente artículo de Dirty Rock sobre su nuevo vídeo "No Reflection".
El nuevo disco de Marilyn Manson, Born Villain estará a la venta el próximo 1 de mayo, a través del propio sello discográfico de Manson, Hell, Etc., su gira mundial "Hey Cruel World…Tour 2012" arranca hoy 27 de abril en Providence, Richmond, que luego seguirá por el este y medio este de Estados Unidos hasta el día 20 de mayo que actuará en el "Eagles Ballroom" en Milwaukee, Wisconsin. «You're so vain» estará incluida dentro del Bonus track del nuevo disco, «Born Villain».
Cuatro días después recorrerá casi 6.200 kilómetros para estar en el Rock Coast Festival de Santa Cruz de Tenerife el jueves 24 de mayo, junto a The Smashing Pumpkins e Iggy Pop & The Stooges entre otros. De ahí volará a Rusia, pasando por media Europa, la otra fecha española para Marilyn Manson será el 21 de julio en la primera edición del Festival Costa de Fuego de Benicàssim.
Marilyn Manson y Johnny Depp cantando «You're so vain».
Marilyn Manson no es la primera vez que realiza versiones para alguno de sus discos, ya lo hizo con Tainted Love, clásico de finales de los sesenta de Gloria Jones y versionada por Soft Cell en 1981 y Sweet Dreams, original de Eurythmics (Annie Lennox y David Stewart) de 1983.
El pasado 11 de abril Manson y Depp se despachaban a gusto en el Club Nokia de Los Angeles, en los premios "The Metal Hammer Golden Gods Awards", la primera actuación en directo de Marilyn Manson tras tres largos años,  Johnny Depp tocó la guitarra junto al anticristo superstar, «Sweet Dreams» y «The Beautiful People».
Marilyn Manson y Johnny Depp cantando The Beautiful People».
Marilyn Manson y Johnny Depp cantando «Sweet Dreams»
Además esa noche Marilyn Manson interpretó «The Dope Show» de su disco «Mechanical Animals» (1998) y «No Reflection» de su nuevo disco «Born Villain» (2012).
Marilyn Manson pone a disposición de todos sus fans cuatro nuevos temas en Spotify «Pistol Whipped», «Slo-mo-tion», «The Gardener» y «Murderers are getting prettier every day», además de un vídeo en Youtube con Marilyn Manson recitando la letra de una de sus canciones «Overneath the Path Of Misery».
Johnny Depp además de actor, director de vídeos musicales, productor y músico confeso y gran amante del Rock and Roll, desde muy joven en su Florida natal, formó su primera banda llamada The Kids como guitarrista, luego Rock City Angels y P, la banda con la que grabó un álbum y llegó a compartir escenario con multitud de estrellas, llegando abrir una sala de conciertos en Los Angeles, llamada The Viper Room junto a su amigo y actor, muerto en la misma puerta del local, River Phoenix, el mismo año de su inauguración en 1993, Depp traspasó The Viper Room en 2004, un local de referencia en Los Angeles en cuanto al Rock se refiere.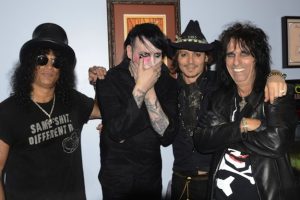 Johnny Depp ha compartido escenario y grabado junto a Eddie Vedder, Iggy Pop, Patti Smith, Alice Cooper, Billy Gibbons, Bill Carter y Oasis entre otros.
Recientemente Johnny Depp durante el estreno de su próxima película "The Rum Diary", se pudo ver al actor junto a Keith Richards justo después del estreno del filme, tocando junto a Richards en un club de Nueva York el pasado 25 de octubre de 2011.
Marilyn Manson ha editado con éste "Born Villain" 12 álbumes, vendido más de 50 millones de copias, tres de ellos de platino en EE UU y otros tres de oro, conocido por su talento con la guitarra, el piano, el bajo y batería, ha sido actor en "Lost Higway", de David Lynch, o "Bowling for Colombine" (2002), de Michael Moore.
Pero su influencia va más allá, como dijo Johnny Depp "Manson me inspiró para Willy Wonka" en "Charlie y la fábrica de chocolate" en año 2005.
Esperamos a Marilyn Manson el anticristo superstar, más Joker,villano y con un absoluto rock más desbocado y desbordado que nunca al Rock Coast Festival en Tenerife el próximo 24 de mayo y el 21 de julio en la primera edición del Festival Costa de Fuego de Benicàssim.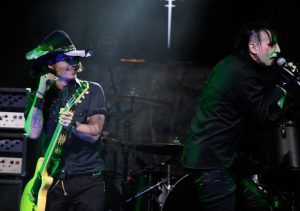 Marilyn Manson And Johnny Depp Release 'You're So Vain' Cover. Marilyn Manson and Johnny Depp have released they're cover of 'You're So Vain', originally by Carly Simon.
Marilyn Manson is set to add the cover to his new album 'Born Villain', as a bonus track – the rocker is no stranger to a cover or two, previous hits have included his most famous cover 'Tainted Love'.
He spoke to MTV News about collaborating with Hollywood actor Johnny Depp: «He played drums and lead guitar, and I played guitar and sang. It's a bonus track on my new record and the video will probably be us looking at each other in a mirror.»
The pairing may be a little random – but they have already teamed up to perform on stage together at a recent US show, and the cover is pretty impressive! 'Born Villain' is set to be released on April 30th, following a bit of a break for Manson – fans will be happy to hear! Manson set to add it as a bonus track on new album.
Marylin Manson will be at the Rock Coast Festival in Tenerife and Festival Costa de Fuego de Benicàssim.
Marilyn Manson «No Reflection».