Little Steven And The Disciples of Soul han anunciado el lanzamiento de su nuevo álbum "Summer of Sorcery", el primer álbum con material nuevo en dos décadas que se publicará el 3 de mayo. Little Steven también estará el 15 de junio en el BBK Music Legends Festival de Sondika (Bilbao) y el 17 de junio en Barcelona en la sala Apolo.
"Summer of Sorcery" llega dos años después del regreso en solitario de Little Steven publicado en 2017 con "Soulfire" y su directo al año siguiente con "Soulfire Live".
El nuevo disco de Little Steven fue escrito, arreglado y producido por Van Zandt en sus propios estudios Renegade en la ciudad de Nueva York fue coproducido y grabado por Geoff Sanoff y coproducido por el director musical y guitarrista de Disciples of Soul, Marc Ribler. El álbum está compuesto por una portada inspirada en el trabajo de Frank Frazetta y realizada por Louis Arzonico, el director artístico de Van Zandt.
Little Steven se une a este emocionante viaje musical con sus Disciples of Soul, un grupo de 14 integrantes formado por algunos de los mejores músicos de estudio y en vivo del sector. Liderando el cargo junto a Van Zandt, está el director musical y guitarrista Marc Ribler (Darlene Love, Roger McGuinn, Carole King) que dirige la banda formada por Lowell "Banana" Levinger de The Youngbloods para piano y Wurlitzer, el bajista Jack Daley (Lenny Kravitz, Boz Scaggs, Darryl Hall), el bateria Rich Mercurio (Ben E King, Sara Bareilles, Idina Menzel), el percusionista Anthony Almonte (King Creole y The Coconuts), Andy Burton en el órgano B3, piano, sintetizadores (Cyndi Lauper, John Mayer, Ian Hunter, Ian Hunter ).
Escucha el nuevo disco de Little Steven and The Disciples of Soul "Summer of Sorcery" (2019)
Cuenta con una dinámica y potente sección de trompa con Eddie Manion como director en saxofón barítono (Diana Ross, Bruce Springsteen, Johnny Southside), Stan Harrison en saxofón tenor y flauta (David Bowie, Mick Jagger, Duran Duran), Ron Tooley en trompeta (James Brown , John Lennon, Maceo Parker), Ravi Best en trompeta (Aretha Franklin, Stevie, Wonder, Kool y The Gang) y Clark Gayton en trombón (Sting, Bruce Springsteen, Joss Stone, Rhianna). La banda se completa con los conmovedores cantantes que mezclan baile y voces como Jessie Wagner (Kid Rock, Lenny Kravitz, Chic), Sara Devine (Alicia Keys, Mary J. Blige) y Tania Jones (Disciples of Soul).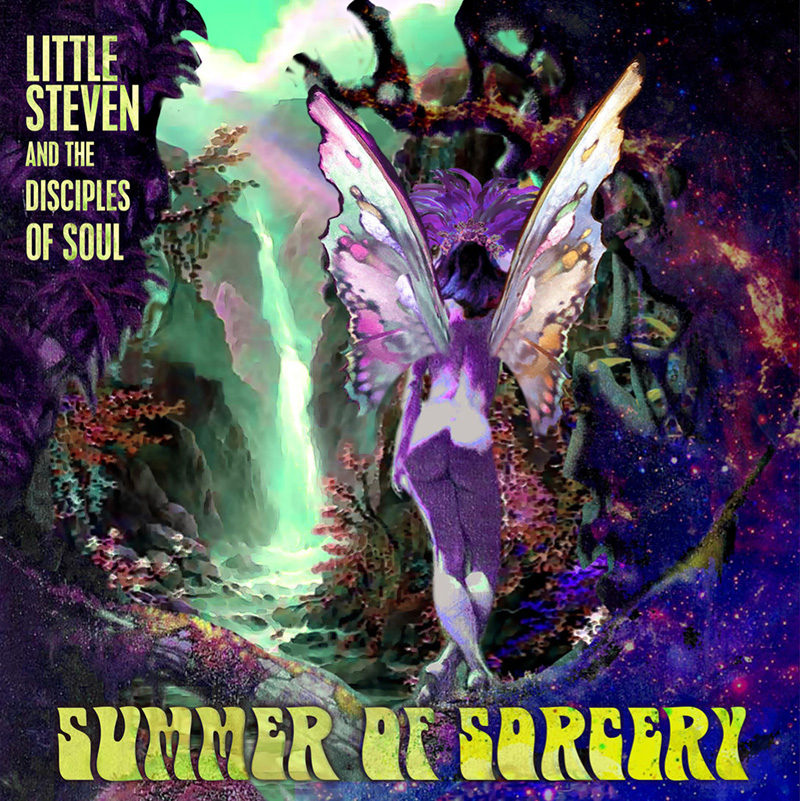 "Summer of Sorcery", álbum compuesto por una docena de canciones que evocan la magia del verano, la playa y el paseo marítimo, el amor joven y la lujuria desenfrenada, la inocencia y la experiencia. Trabajo temático de Steve en que quiso capturar la emoción de ese primer verano de conciencia. Ese verano especial donde te enamoras por primera vez de la vida, la emoción de estar vivo.
El primer álbum en solitario de Van Zandt como Little Steven en casi dos décadas, "Soulfire" publicado hace dos años, nos mostró esa revisión de canciones de su carrera como artista, intérprete, productor, arreglista y compositor, centrándose en el sonido "soul horns-meet-rock & roll guitars"; sonido que fue pionero en los tres primeros álbumes clásicos de Southside Johnny and the Asbury Jukes y, más tarde, su primer LP en solitario.
"Summer of Sorcery" es un híbrido entre Sam Cooke, Sly y The Family Stone, Tito Puente, The Beach Boys o James Brown.
"Smmer of Sorcery":
1. Communion
2. Party Mambo!
3. Love Again
4. Vortex
5. A World Of Our Own
6. Gravity
7. Soul Power Twist
8. Superfly Terraplane
9. Education
10. Suddenly You
11. I Visit The Blues
12. Summer Of Sorcery
Steven Van Zandt, músico, líder de la banda, productor, actor, arreglista, activista y mucho más, conocido entre muchos otros apodos por Little Steven miembro de The E Street Band, ha visto expandir sus límites al incluir el legendario trabajo como actor en The Sopranos and Lilyhammer, así como creador del único "Little Steven's Underground Garage" de Sirius XM (por no mencionar el creador del formato "Outlaw Country" de larga duración de Sirius XM).