Steve Earle & The Dukes, publican nuevo disco llamado "Ghosts of West Virginia", en el que el tejano examina el papel de la minería de carbón en los Apalaches. El disco está compuesto por 10 canciones y disponible para el 22 de mayo.
Escucha los dos primeros adelantos del nuevo disco de Steve Earle and the Dukes
Escucha el nuevo disco al completo de Steve Earle:
El disco compuesto por 10 canciones se centra en la explosión de la mina de carbón Upper Big Branch de 2010 localizada en Virginia. Esa tragedia mató a 29 mineros y ahora se conoce como uno de los peores desastres mineros en la historia de Estados Unidos. Las canciones de Earle dan contexto a aquella tragedia, que surgió tras varias violaciones de seguridad que luego fueron descubiertas por los propietarios de la mina.
El disco está concebido para la obra de teatro Coal Country sobre aquella explñosión en la mina por los dramaturgos Jessica Blank y Erik Jensen. Earle tocará siete de las canciones sobre el escenario durante el espectáculo, que se estrena el 3 de marzo en el Public Theatre de la ciudad de Nueva York.
Earle grabó el disco en los legendarios Electric Lady Studios de Jimi Hendrix en la ciudad de Nueva York. El proyecto se grabó completamente en mono, debido a la pérdida auditiva parcial que hizo que Earle no pudiera escuchar las cualidades de las grabaciones estéreo. El bajista Jeff Hill se unió a los Dukes para este disco, tras el fallecimiento de Kelley Looney, quien tocó el bajo para Earle durante 30 años. El álbum está dedicado a Looney junto con los 29 mineros que murieron en la explosión.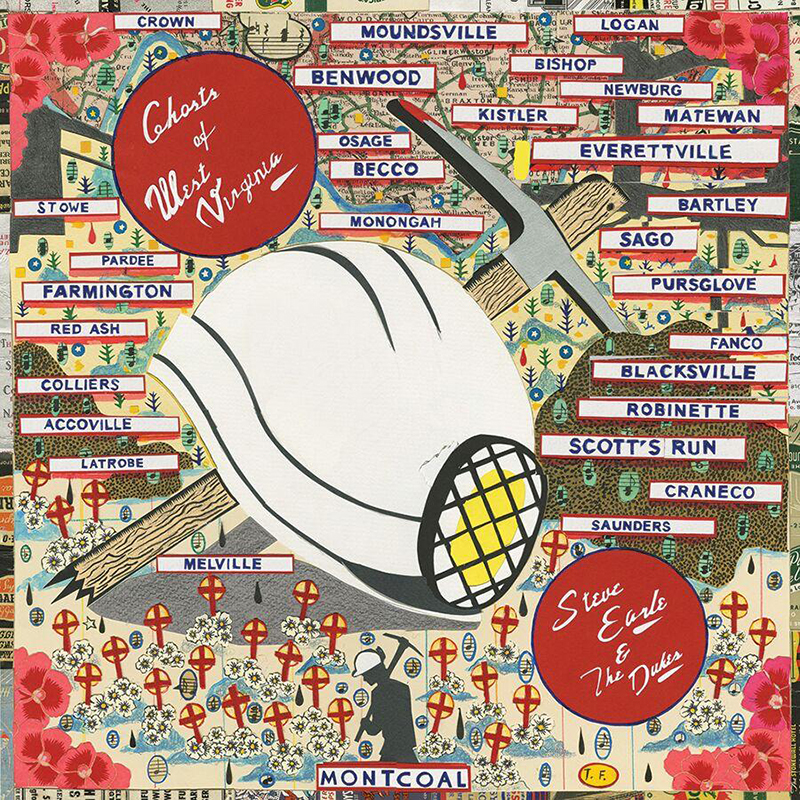 Ghosts of West Virginia:
1.Heaven Ain't Goin' Nowhere
2.Union, God and Country
3.Devil Put the Coal in the Ground
4.John Henry was a Steel Drivin' Man
5.Time is Never on Our Side
6.It's About Blood
7.If I Could See Your Face Again
8.Black Lung
9.Fastest Man Alive
10.The Mine