Chuck Prophet publica su concierto con una orquesta de cuerdas "Strings in the Temple: Live with Orchestra at the Great American Music Hall". Concierto que se llevó a cabo el 24 de noviembre de 2013, en el emblemático y precioso teatro Great American Music Hall en San Francisco para tocar íntegramente su nuevo disco, el antológico, "Temple Beautiful" publicado un año anterior. La actuación cuenta con participación del Flamin' Groovies Roy Loney, tristemente fallecido, interpretando "Temple Beautiful". Loney aparece en los coros del disco de estudio.
Chuck Prophet por aquel entonces estaba pensando en hacer un musical con aquel disco. La idea inicial era llevar disfraces, y llevarlo al escenario con los héroes y personajes de aquel disco. Willie Mays, mártir por los derechos de los homosexuales, el alcalde Harvey Milk, Laffing Sal, Jim Jones, Carol Doda, el emperador Norton y mucho más. Antes de que la grandiosidad y prestigio se volviera en contra de Prophet, se conformaron con organizar un concierto junto con una orquesta de cuerda de ocho piezas, dirigido por el productor de aquel disco, Brad Jones (Josh Rouse, Cotton Mather,Matthew Sweet,Marshall Crenshaw).
"El disco puede descargarse en Bandcamp durante las próximas 24 horas, renunciando a su tarifa del 10%, así que ya sabes lo que eso significa, ¿verdad? Más papel higiénico para el cuerto de baño ?No?", comenta Chuck Prophet.
Chuck Prophet contó para componer "Temple Beautiful" con su amigo, poeta, y compositor y periodista Klipschutz, con el que ha vuelto a contar en su próximo trabajo, «The Land that time forgot» que se publicará el próximo 15 de mayo.
"Strings in the Temple: Live with Orchestra at the Great American Music Hall" contiene las doce canciones de Temple Beautiful, más los bises compuestos por "Shake Some Action", el himno de la ciudad de San Francisco interpretada originalmente por los Flamin' Groovies y "No Other Love", un tema de su disco del mismo título publicado en 2002.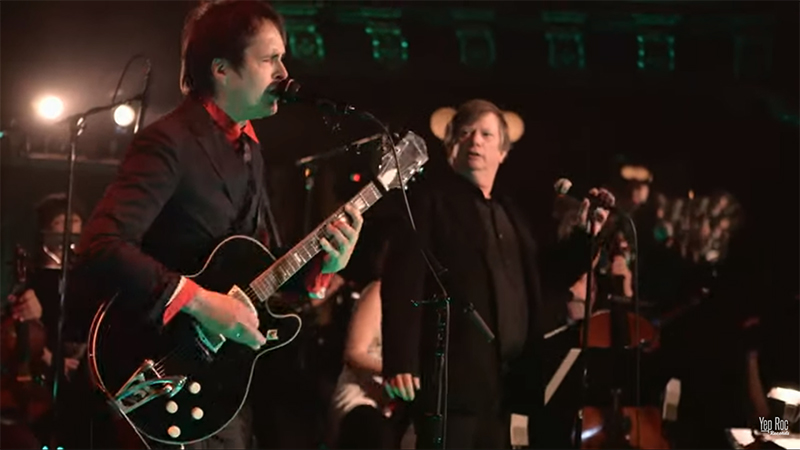 "Temple Beautiful" rinde tributo a la maravillosa ciudad de San Francisco, con 10 prodigiosas canciones de Rock añejo, cubiertas con un gran manto de niebla espesa y guitarras chirriantes desde lo más profundo del Sea Cliff, Presidio y del Golden State Bridge.
La figura de Chuck Prophet es enorme en Estados Unidos y especialmente en California, desde que comenzó a forjar su carrera a mediados de los años ochenta con la maravillosa banda Green on Red, auténtico referente del Country Rock norteamericano, con sonidos desérticos y arcillosos de Rock fronterizo junto a bandas tan importantes como Son Volt, REM, The Blasters o The Long Ryders.
A partir de ahí no ha parado de reinventarse y de fraguar su leyenda como uno de los mejores compositores del momento, y poeta del Rock and Roll junto a Alejandro Escovedo, Steve Earle, Willie Nile, Neal Casal o Elliot Murphy.
Sus conciertos son un éxtasis de talento, pasión y melomanía musical que te transportan hacia esos aromas del Gram Parsons con su Psicodelia, Country y Folk, las guitarras satánicas asesinas de Keith Richards y Tom Petty, y la sensibilidad de los reporteros musicales como su gran amigo Alejandro Escovedo, Neil Young, Bob Dylan, Alex Chilton o cualquier Bluesman de Memphis o del Delta del Mississippi.
El primer corte del disco Temple Beautiful, "Play that song again" presagia ese espíritu combativo, endiablado y maravilloso del disco, en el que las restantes nueve canciones recorren la historia de la música con la ciudad de San Francisco como telón de fondo, subiendo y bajando por Lombard, Divisadero, Van Ness, Market St y parando definitivamente en Mission Street para llevarnos a El Camino Real, misión o calle musical que conectaron los misioneros durante la fundación de California entre los siglos 17 y 19, llamado Templo Hermoso: Museo de los corazones rotos.