Neil Young retransmitió su primer concierto "Fireside Session" desde el estado de Colorado. Grabación de seis canciones durante casi media hora que fueron tomadas el día antes desde el rancho de su mujer Daryl Hannah, denominado "Hearse Theater"
Neil Young, con botas de goma, al aire libre y nevando, Neil Young comenzó "Sugar Mountain" en la terraza de la casa. La vista de un paisaje aún cubierto de nieve en las Montañas Rocosas, iba que ni pintado a este tema que compuso en 1968 y apareció en aquel maravilloso recopilatorio "Decade" en 1977. Ya dentro de la casa y junto a la chimenea, interpreta "Vampire Blues" (On The Beach, 1974), "Love / Art Blues" escrita por Young para Crosby, Stills, Nash & Young y publicado en el disco "CSNY 1974", "Tell Me Why" de "After The Gold Rush" (1970) y "Razor Love" (Silver And Gold, 2000) con guitarra y armónica. La sesión de Neil Young terminó con "Little Wing" interpretado al piano. La canción que ha interpretado muy pocas veces en directo, pertenece al álbum "Hawks & Doves" (1980), y que pronto se lanzará en "Homegrown" en su versión original de 1975, se escuchó por última vez en directo hace 43 años.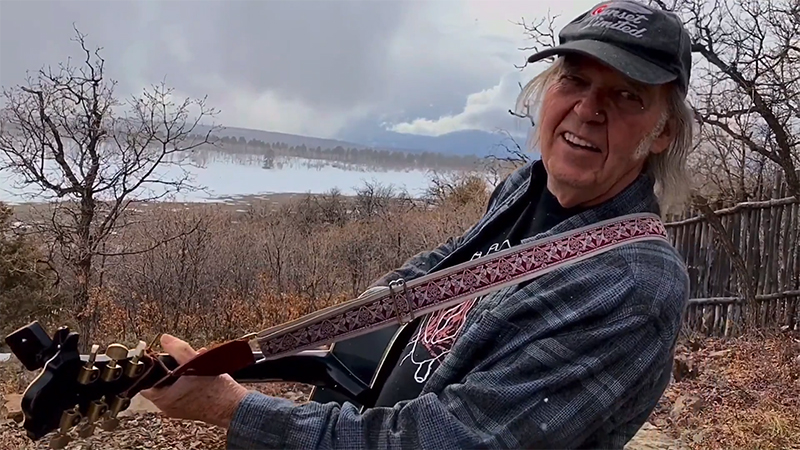 Cada dos canciones, aparece un anuncio del patrocinador Wasser. En otra pausa, Neil Young explica su soporte musical compuesto de armónica de madera, guitarra Ibanez Concorde negro y una Gibson B-25 en lugar de sus viejas y costosas guitarras Martin. Dos guitarras baratas que nunca se han visto en conciertos regulares. Una delicia de concierto. ¡Neil Young inmortal!
Repertorio del concierto de Neil Young "Fireside Session 1"
1. Sugar Mountain
2. Vampire Blues
3. Love/Art Blues
4. Tell Me Why
5. Razor Love
6. Little Wing