Los Rolling Stones se unen este sábado 18 de abril a una cita histórica: el concierto benéfico One World Together At Home (OWTAH, Un solo mundo: Juntos desde casa). Un concierto especial que contará con casi un centenar de actuaciones. Todos ellos se han unido a esta causa solidaria para rendir homenaje a los héroes de esta pandemia: los millones de trabajadores sanitarios que están luchando en todo el mundo en primera línea contra el coronavirus.
Ver la retransmisión en directo de One World Together at Home
Si estás en España, podrás seguir en TVE1 el sábado 18 de abril a partir de las 20 horas y terminará ocho horas después, a las 4 de la mañana del domingo 19 de abril y en canalales de televisión y plataformas digitales como ABC, NBC, ViacomCBS Networks, iHeartMedia and Bell Media networks Canada. BBC One, Alibaba, Amazon Prime Video, Apple, Facebook, Instagram, Joox, LiveXLive, Roku, Tencent, Tencent Music Entertainment Group, TIDAL, TuneIn, Twitch, Twitter, Yahoo, y YouTube.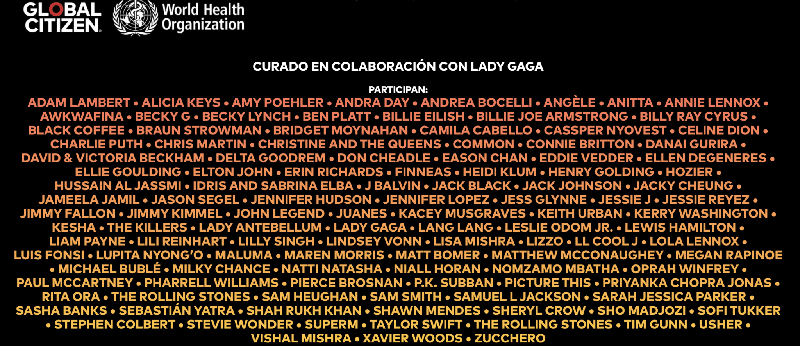 El concierto benéfico One World Together At Home está organizado porla superestrella Lady GaGlobal Citizen en colaboración con la Organización Mundial de la Salud (OMS) y Lady Gaga.
Además de los Rolling Stones estarán actuando Elton John, Paul McCartney, Stevie Wonder, Chris Martin (Coldplay), The Killers, Christine & The Queens, Pharrell, Jennifer Lopez, Andrea Bocelli, J Balvin, Lizzo, John Legend, Billie Joe Armstrong (Green Day), Eddie Vedder (Pearl Jam), Alicia Keys o Sam Smith entre otros.
El concierto en apoyo a la OMS tendrá a buen seguro multitud de mensajes para la posteridad después de que el presidente estadounidense, Donald Trump, anunciara que detendrá sus aportes a ese ente de la ONU tras acusarle de manejar mal la crisis de la Covid-19, que ha dejado más de 140.000 muertos en el mundo.