Senora May, una de las voces emergentes del folk de los Apalaches, lanza su segundo disco, All Of My Love. Una evolución desde la acústica de su debut Lainhart hacia sonidos más orgánicos. La esposa de Tyler Childers, otro nombre clave de la música regional, sigue creciendo y ha entregado un disco que es un paso importante tanto en sonido como en composición.
Escucha "All Of My Love" de Senora May aquí
Senora pasó el año viendo como su país se desmoronaba en medio de la pandemia. Aislamiento, disturbios raciales, la nefasta presidencia de Trump,… Así, decidió grabar un disco lleno de canciones de amor. Para una joven crecida en el seno de una familia católica, es una elección con sentido. Mientras todo el mundo se llenaba de odio, ella lanzaría ocho canciones de amor, además en el día de San Valentín.
Para el disco, Senora se rodeó de un equipo de músicos mayoritariamente femenino. Al mando, Jessica Lea Mayfield. La cantautora de Ohio, con más recorrido que ella, ayudó a poner en orden las ideas que llevó al estudio, hasta el punto de compartir créditos en varias de las canciones. No solo eso, sino que aporta guitarra y armonías en varias de las canciones. También destaca la colaboración de Seth, uno de los hermanos Avett, la banda bandera del folk apalachiano en los últimos años. También destaca la colaboración de otra figura local, Chloe Edmonstone.
"Es imposible no enamorarse de la naturaleza cuando vives en un lugar como yo. Las colinas respiran a mi alrededor en sincronía, el aire es fresco y la naturaleza de Kentucky se parece bastante a las selvas tropicales; Appalachia ocupa el segundo lugar en el mundo en diversidad de especies… Es mágico, se tiene que reflejar de alguna manera en mi arte."
El disco es un paso adelante en su sonido. Para alguien que lleva tatuado en su brazo "traipsin' woman', en homenaje a Jean Thomas, la mujer que fundó el American Folk Festival, está claro que la base del nuevo disco es el folk de su tierra. Un estilo que planea majestuosos en temas como Interwine o Dogs of Mexico. Pero ahora no tiene miedo en experimentar con sonidos más diversos, abriendo caminos hacia el jazz (No Sweeter Thing, su particular homenaje a Nina Simone) y el blues bastardo estilo Lucinda Williams (Love You More).
Un álbum corto y modesto pero que, como su anterior trabajo, nos acompaña de manera delicada y va ganando en cada escucha. Al final, se convertirá con seguridad en uno de los discos que más pasarán por mi reproductor en los próximos meses.
«All of my love's for you. Come on,…let me have yours too.»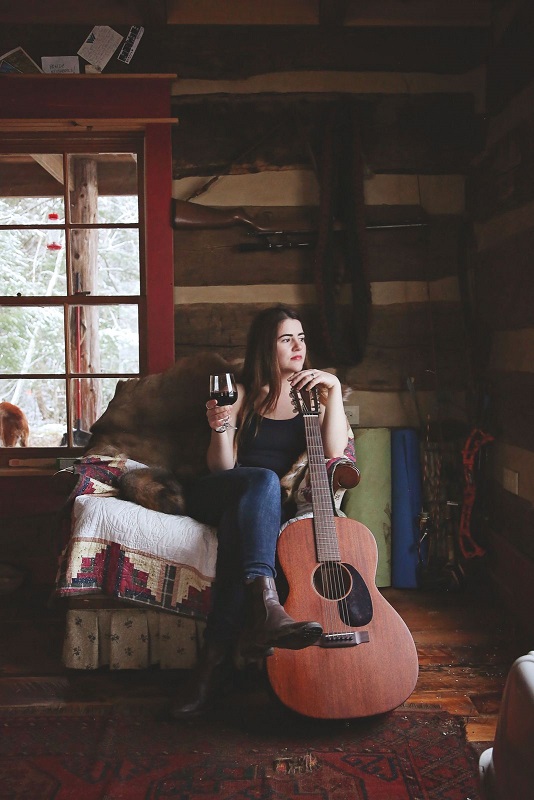 ENGLISH:
Senora May releases her new album, All Of My Love
Senora May, one of the upcoming voices in Appalachian folk, has just released her second album, entitled All Of My Love. It's an evolution from the acoustic sound in her debut album, Lainhart, to a sound that's more organic. May, the wife of Tyler Childers (another big name in the area) continues to grow, and has bestowed us with an album that is a huge step forward, not only in terms of sound, but also in songwriting, in general.
Listen to Senora May's All Of My Love below.
Senora has spent the past year watching her country crumble into pieces throughout the pandemic: isolation, race riots, the disastrous Trump presidency… This is all what drove her to record an album full of love songs. For a young woman raised in a Catholic family, this choice is full of substance. While everyone else seems to be filled with hatred, she has decided to release eight love songs – and on Valentine's Day, to boot.
While recording the album, Senora surrounded herself by a team made up entirely of female musicians, with Jessica Lea Mayfield at the helm. The more seasoned singer-songwriter from Ohio helped sort out the ideas that were brought into the studio; so much so, that she even appears in the credits on several of the songs. She added some of the guitar parts and harmonies to several of the songs, as well. The album also features Seth Avett, member of the Avett Brothers, one of the forerunners in Appalachian folk music in recent years, as well as another local figure, Chloe Edmonstone.
"It's impossible not to fall in love with nature when you live in a place like I do. The hills breathe all around me at the same time, the air is pure, and the Kentucky wilderness is basically a rainforest. Appalachia ranks second in the world in species diversity… It's magical, it has to be reflected in some way in my art."
The album is a step forward in terms of sound. For someone who has "traipsin' woman" tattooed on her arm, as a tribute to Jean Thomas, the woman who founded the American Folk Festival, it's clear that the foundation of the new album is the folk from where she grew up. It's a style that she outlines majestically on songs like "Interwine" or "Dogs of Mexico". But she's not afraid anymore to experiment with more diverse sounds, as she dabbles in jazz with "No Sweeter Thing", her particular tribute to Nina Simone, or a Lucinda Williams-like bastard blues in "Love You More".
While the album may come across as short and modest at first, just as with her previous album, she accompanies us in such a delicate way that she's able to win us over a little bit more each time we lend her our ears. In the end, it will surely become one of the albums that will most often find its way to my turntable during the next few months.
"All of my love's for you. Come on,… let me have yours too."
Translation by Jessica Jacobsen
Senora May lanza «All Of My Love» Senora May lanza «All Of My Lve»