Desde nuestra entrevista en abril a GA-20, el trío de Boston que está encabezando las listas de éxitos de blues, en la que insinuaron la reserva de nuevas pistas que ya tenían grabadas y que se lanzarían este otoño, hemos tenido muchísimas ganas de oír lo que nos tenían preparado.
Ever since we interviewed the Boston blues trio GA-20 back in April and they hinted at the stockpile of new music that was already recorded and set to be released this Fall, we've been eager to hear what they had in store for us.
Después de un año girando sin parar y una nominación a un premio Blues Music Award 2022 por su álbum anterior, Try It… You Might Like It! (2021, Alligator/Karma Chief), un tributo al fallecido bluesman de seis dedos de la guitarra slide de Chicago, Hound Dog Taylor, GA-20 está a punto de editar su tercer álbum, Crackdown, a través de Karma Chief (una subdivisión del sello independiente Colemine Records). De hecho, su primer sencillo Easy on the Eyes fue anunciado a principios de mes y en un par de semanas, se editará otra nueva canción con sabor al blues de Luisiana.
After a year of non-stop touring and a 2022 Blues Music Award nomination for their previous album, Try It…You Might Like It! (2021, Alligator/Karma Chief), a chart-topping tribute to late six-fingered slide guitar Chicago bluesman Hound Dog Taylor, GA-20 are about to drop their third album, Crackdown, via Karma Chief (a subdivision of the independent label Colemine Records). In fact, their first single "Easy on the Eyes" was released at the beginning of the month and a new Louisiana-flavored track from the upcoming album is set to be released in another couple of weeks.
El pasado abril, tuve la suerte de ver en primicia Easy On the Eyes (algo así como «se deja ver» en español) durante el bolazo que dio GA-20 en la sala madrileña Funhouse. Antes de tocar el nuevo tema esa noche, Matt lo calificó como «banger» (un tema embriagante que no cansas de oír) y cuánta razón tenía…
I was lucky enough to hear "Easy On the Eyes" live back in April when GA-20 blew the crowd away at Madrid's Funhouse. When Matt called it a «banger of a song», he wasn't lying.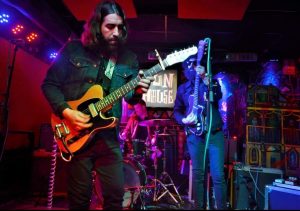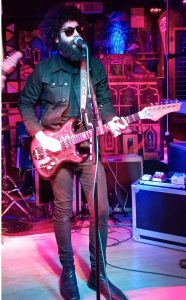 Crackdown se grabó en directo en los famosos Q Division Studios en Somerville, Massachusetts, e incluye nueve temas originales y una versión más bluesera de la canción «Just Because» que los Nelstone's Hawaiians grabaron por primera vez en 1929 (la canción no tendría éxito hasta casi treinta años después gracias a Lloyd Price).
Hacemos discos que nosotros querríamos escuchar. Es nuestra forma de ver el blues eléctrico tradicional que amamos.
Crackdown was recorded live at the famous Q Division Studios in Somerville, Massachusetts and features nine original songs and a headier, more deep-rooted blues take on the hit "Just Because" that Nelstone's Hawaiians first recorded in 1929 (although the song wouldn't be well-known until almost thirty years later thanks to Lloyd Price).
"We make records that we would want to listen to. It's our take on the song-based traditional electric blues we love." – Matt Stubbs
Unidos por su mutuo amor y respeto por ese blues crudo, purista y electrificado, el guitarrista y cantante Pat Faherty y el productor y veterano guitarrista de blues Matt Stubbs, cofundaron GA-20 en 2018. Un año después, lanzaron su disco debut, Lonely Soul, logrando una gran aclamación crítica y aceptación pública. Cuando el baterista Tim Carman se unió al dúo, entraron en pleno apogeo y desde entonces, han estado reinventando y resucitando el blues eléctrico de la vieja escuela y sin ataduras.
Brought together by their mutual love and respect for that raw, purist, electrified blues, guitarist-singer Pat Faherty and veteran blues guitarist & producer Matt Stubbs, co-founded GA-20 in 2018. A year later, they released their debut, Lonely Soul, quickly drawing a large following. When they teamed up with drummer Tim Carman, they really seemed to hit their stride and have been reinventing and resurrecting the looseness and freedom of old-school electric blues ever since.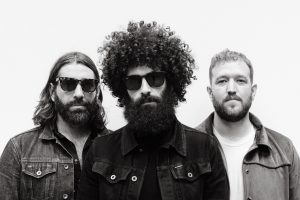 Al preguntarle por sus giras, Stubbs dijo «nos encanta hacer discos, pero tocar en directo es aún más importante para nosotros». Está claro que no bromeaba. Me agota solo el hecho de mirar su sinfín de fechas pasadas y futuras, compartiendo cartel con artistas de la talla de George Thorogood & The Destroyers, The Monophonics, Kendra Morris o Tyler Bryant & The Shakedown…, y aunque volverán a Europa en noviembre, nos quedaremos con las ganas de verlos sobre las tablas en tierras españolas… de momento.
When asked about touring, Stubbs stated that "Blues is meant to be played live; it's about telling stories. We love making records but performing live is even more important to us." And he was definitely not joking. I get exhausted just looking at their grueling run of past and future tour dates, including dates with the likes of George Thorogood & The Destroyers, The Monophonics, Kendra Morris and Tyler Bryant & The Shakedown, and although they will be coming back to Europe in November, unfortunately there's no sign of any dates on Spanish soil… at the moment.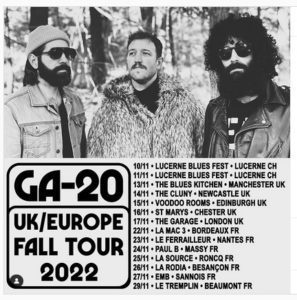 Tim justificó el calendario implacable de su gira cuando le pregunté al respecto en abril: «Tienes que esforzarte muchísimo… Además, es genial tocar el mismo set o uno similar todas las noches y realmente pulirlo. Es una pasada lo unida que puedes llegar a ser como banda cuando tocas tanto juntos».
Tim justified the relentless tour schedule when I asked him about it back in April: "You've got to grind… It's cool to play the same set or a similar set every night and really polish it. It's crazy how tight you can get as a band when you're just playing that much."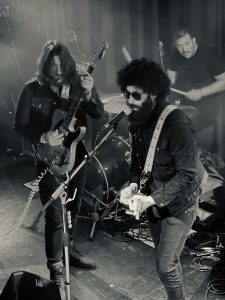 Cada pista de Crackdown suena embriagadora y diferente y, aun así, mantiene un paisaje sonoro consistente y lleno de ese blues que tanto reinaba en los años 50 y 60. Los temas del disco, cortos y basados en melodías, son una prueba del compromiso orgulloso y feroz que estos tres extremadamente talentosos músicos tienen hacia el género que aman. Sin lugar a dudas, justifican plenamente su lema: «Si no te gusta el blues es porque estás escuchando el blues equivocado».
GA-20 has skillfully managed to make every track on Crackdown sound intoxicating and different, while maintaining a consistent soundscape full of the blues that was so prevalent in the 50s and 60s. The short, song-based tracks are a proud and fierce commitment to the genre that the three extremely talented bluesmen so apparently cherish, and to no end, bear witness to their motto: «If you don't like the blues, you're listening to the wrong sh*%."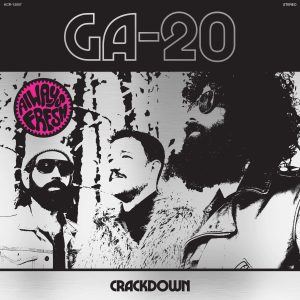 El álbum sale el 9 de septiembre, pero la preventa de CRACKDOWN ya está disponible en CD, en un LP exclusivo de color morado y en vinilo negro clásico. Pide el tuyo aquí: https://ffm.to/kcr12007
The album drops on September 9th, but pre-orders are now available. The individual «CRACKDOWN» LP will also be available in Indie-Exclusive Purple vinyl, classic Black vinyl, and on CD. Look for the different options and pre-order your favorite color here: https://ffm.to/kcr12007
If you care to know how a rowdy 1950s Chicago juke joint sounded, GA-20 are here to help. They keep things simple and fierce…scything, growling riffs, driving grooves, blistering boogies and defiant vocals.
– The Guardian (UK)
A loose, raw, high-energy approach to the blues…guaranteed to get anyone with a pulse on to the dance floor. Riotously happy house rockers…they deliver sweaty, raucous grooves all night long.
— Living Blues
"This is the kind of music that travels through time while taking from the era where it was born and turning it into something fresh. Dirty and raw…timeless and modern." – Medium.com
The band plays "rough and tumble, relentless blues" with "tough, insistent vocals" and "maximum intensity rocking." — American Songwriter
Podéis encontrar más información sobre GA-20 en su página web, Facebook, Instagram o escuchar su música en Spotify.