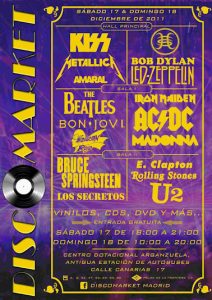 El próximo sábado 17 y domingo 18 de diciembre DISCOMARKET, en el centro Dotacional Arganzuela, en la calle Canarias, 17 de Madrid, que viene a sumarse a la ya existente Feria Internacional del Disco.
Los organizadores afirman que Madrid necesita otra feria porque "Aquí nació la movida, el rock urbano… Debemos recoger esos legados y darles continuidad. De forma humilde, os presentamos este proyecto". La entrada es gratuita.
Discomarket pondrá a la venta las ocho primeras ediciones americanas de The Beatles, unas joyas muy difíciles de encontrarlas juntas a día de hoy.
La Feria contará con más de 30 expositores donde se podrán adquirir material tanto en vinilo, cd y dvd de clásicos como The Rolling Stones, Van Morrison, Pink Floyd hasta ediciones limitadas, rarezas, bandas sonoras, etc… en un evento que tiene como objetivo revitalizar el coleccionismo discográfico
Next Saturday and Sunday, December 17th & 18h, DISCOMARKET, Vinyl and record lovers, a MUST GO, if you are in Madrid (centro Dotacional Arganzuela, en la calle Canarias, 17). Free entrance. Some of the news, Discomarket will release the first eight American editions of The Beatles, some jewelry hard to find them together today.
The Fair will feature over 30 exhibitors where material can be purchased on vinyl, cd and dvd of classics like The Rolling Stones, Van Morrison, Pink Floyd to limited editions, rarities, soundtrack, etc … in an event that aims to revitalize the record collection