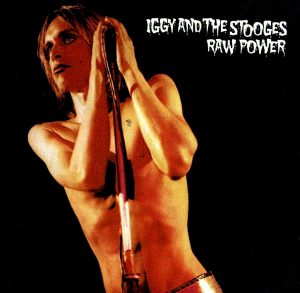 Iggy Pop acaba de reeditar su clásico "Raw Power" de 1973 con The Stooges,  en dos vinilos de 12 pulgadas y de 120 gramos de peso.
El material está compuesto de dos discos, el disco original que en su día David Bowie producía y el otro disco de 1997 reeditado por el propio Iggy Pop & The Stooges.
"Raw Power", se consideró en aquella época como disco provocador por su alto contenido sexual y de drogas en sus letras y sería uno de los primeros trabajos de punk-Rock de la historia, desdeñado en un principio por crítica y público Iggy Pop, líder de The Stooges, banda originaria de un pequeña ciudad, cerca de Detroit en el estado de Michigan, grababa inicialemente dos discos con igual resultado, fracaso inicial, "The Stooges" (1969) y "Fun House" (1970).
La banda se separaría e Iggy firmaría individualmente con Columbia Records, para realizar "Raw Power" perseveró en traer a The Stooges a la grabación, David Bowie se encargaría de la producción disco.
James Williamson sería el guitarrista y nuevo colaborador de la banda durante dos años, Ron Asheton al bajo y Scott Asheton estaría a la batería, el disco se grabó en Londres en los estudios CBS y se mezcló en Hollywood en los estudios Western Sound.
El propio Iggy realizaría la remezcla del disco en el año 1997, en los estudios Sony Studios de Nueva York. Habría otra reedición en el año 2010 con la añadidura de canciones grabadas en directo en diversos conciertos de 1973 y canciones del propio estudio desechadas en su momento.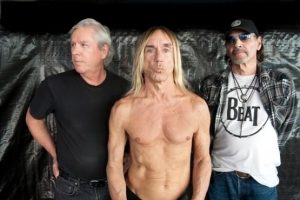 En una reciente entrevista a Iggy Pop que os mostramos a continuación en el siguiente vídeo, nos cuenta cual fue el primer disco que adquirió, "Red River Rock" de Johnny and The Hurricanes en 1962, sólo le gustó esa canción, el disco le pareció un plomazo. Su primer trabajo en una pequeña tienda de discos, su primer viaje a Chicago para conocer el Blues, la visita de nombres conocidos a su trabajo, el maravilloso periodo de conocimiento musical durante 3 largos años en la tienda, la adicción a los discos de  Johnny Cash, Ring of Fire y Walk the Line, Otis Redding o Sam Cooke.
Escucha «Raw Power» de Iggy Pop & The Stooges.
En definitiva todo el que empiece en el mundo de la música debe y tiene aprender y conocer a los clásicos. En septiembre del pasado año se ponía a la venta el DVD, «Iggy Pop & The Stooges Raw Power: Live in the Hands of Fans» en el que por medio de un concurso a través de internet se eligió a seis personas, para que con cámara en mano, filmasen un concierto del propio Iggy & The Stooges de manera casera,  en el Tomorrow's Parties Festival en el estado de New York en 2010, el resultado, memorable.
Iggy Pop & The Stooges estarán en Tenerife el próximo 24 de mayo en el Rock Coast Festival, el 19 de mayo en Sevilla, en el Territorios Sevilla Festival y el 6 de julio en Barcelona, Cruilla Festival.
The classic Iggy and the Stooges album «Raw Power» is available on 12-inch vinyl,  12-inch, 120-gram vinyl LPs (two disc set).This 1973 cornerstone of punk appears on two discs: the original 1973 David Bowie mix on one, the 1997 Iggy Pop mix on the other.
The gatefold set includes a 16-page booklet featuring rare photos and liner notes. Also an self-posted video, the Stooges frontman, who's been making music for some 50 years, had a lot to say when it came to what the bands of 2012 are up to, musing that what they're producing is more akin to "products that contain music,  sort of like those cheap drinks you get in a bad supermarket where it says, 'Contains 10 percent juice.'"
But if you think he yearns for music from an era when television programs were still in black and white, think again: "There's a lot of stuff out there with a bit of music to it, and I think that's OK, but it reminds me of how bad it was to turn on American Bandstand in the 50′s and see all the endless, gutless, di-kless imitations of Elvis that the American industry decided to push on the kids."
Iggy and The Stooges 'Raw Power: Live In The Hands Of Fans' was filmed by six fans in the audience, with handheld cameras during the 2010 'All Tomorrow's Parties Festival' in Monticello, N.Y. The six lucky filmmakers were selected through an online fan contest, was released on DVD and Blu-ray on Sept. 27 2011.