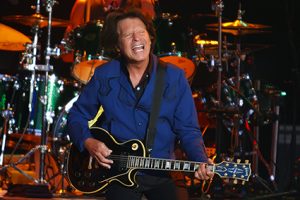 John Fogerty publicará el 28 de mayo "Wrote a song for everyone", nuevo disco en solitario, después de que se esfumase la posibilidad de una reunión con miembros de Creedence Clearwater Revival, Stu Cook o Doug Clifford en San Francisco el pasado enero.
El nuevo disco de John Fogerty tendrá a muchísimos invitados y cantará junto a grandes como Bob Seger, Foo Fighters, los magníficos My Morning Jacket, junto con los excelentes Dawes (banda muy poco conocida en España) y los cantantes country Brad Paisley, Alan Jackson, Keith Urban y Miranda Lambert.
Fogerty utilizará canciones de Credence Clearwater Revival para cantarlas a dúo, y añadirá algún tema inédito al nuevo disco.
Por el momento se conocen sólo dos canciones que compondrán el nuevo disco "Whol'll stop the rain" que la cantará junto a Bob Seger y "Fortunate Son" junto a Foo Fighters.
Recientemente John Fogerty ha grabado una canción para la nueva serie de televisión The Finder, titulada "Swamp Water" y en el que también hizo un cameo de él mismo.
La serie es del mismo productor y creador de la serie "Bones", Hart Hanson.
La canción suena y huele a Fogerty en estado puro, olor a pantano, carreteras oscuras, trenes, lluvia, rios verdes sureños, Bayou y temperaturas altísimas.
"Wrote a song for everyone", es una bellísima canción perteneciente a su grandioso "Green River" de 1969, tercer disco de la Creedence Clearwater Revival.
John Fogerty junto a  Bruce Springsteen cantando "Fortunate Son" en Nueva York, MSG, en octubre de 2009, la canción un himno durante la guerra del Vietnam.
John Fogerty, the old man down's on the road y escribió una canción para todo el mundo.
Ver un concierto de John Fogerty es como saltar en el tiempo a finales de los 60 y estar viendo a su mítica banda en directo, el alma de "creencia cristalina resucitada", Creedence Clearwater Revival, la mejor banda norteamericana de todos los tiempos. John, sin duda, es uno de los artistas más influyentes de la historia del rock and roll.
En el BayArea del Frisco, embrión de la psicodelia, revolucionarios, activistas, radios pioneras de rythm & blues, blues, soul y country, fueron el caldo de cultivo para Fogerty; el sonido guitarrero de Scotty Moore, Steve Crooper y James Burton, le llamaron la atención desde sus inicios.
Para mí el sonido Fogerty es el de las películas de Coppola, Landis, Jarmusch, entre otros, viajando a pleno pulmón, de hondos y largos ecos como el agua del Mississippi y esos turbadores pantanos del sur, siempre salvajes, primitivos, Lodi, carreteras oscuras, trenes, tombstone shadows, baseball, la lluvia, ríos verdes, the old man down the road y tantos perdedores.
Ahora puedes leer nuestra crónica del concierto de John Fogerty dio en Madrid, en su primera visita a España el pasado 13 de julio de 2009.
John Fogerty "Swamp Water" para la nueva serie de televisión The Finder
Legendary rocker John Fogerty has announced that he will be releasing a new record, titled "WROTE A SONG FOR EVERYONE" in the fall – his first on Vanguard Records. The album is a celebration of Fogerty's iconic songbook — it is a collection of classics and deep tracks from his remarkable canon of hits as well as some brand new songs, performed alongside an array of today's biggest superstars, including Foo Fighters ("Fortunate Son"), Bob Seger ("Who'll Stop The Rain"), Keith Urban, Brad Paisley, My Morning Jacket, Alan Jackson, Miranda Lambert and more. In addition, besides as-yet-unannounced contributors from the upper echelons of the country, pop and rock worlds, the album will also see Fogerty teaming with acclaimed new bands like Dawes, all of whom are eager to acknowledge the groundbreaking songwriter/guitarist's titanic influence. "WROTE A SONG FOR EVERYONE" will be released on Vanguard Records in the fall. Full details, including a complete artist list and tracklisting, will be announced shortly.