Neil Young & Crazy Horse presentan su segunda canción y en primicia, "Jesus' Chariot (She'll be Coming Round the Mountain)" a través de un nuevo vídeo, como hizo con su anterior "Oh Susannah" hace unos días con el nuevo y esperado álbum "Americana" a la venta el próximo 5 de junio.
"Jesus' Chariot (She'll be Coming Round the Mountain)" es otra canción tradicional norteamericana derivada de "When the chariots comes" de estilo Gospel y negro espiritual y considerada dentro de la categoría Folk en Estados Unidos como un tema musical para niños.
La canción se cree que fue escrita a principios de 1800, y fue Carl Sandburg quien la arregló y editó por primera vez en 1927, exponiendo aquellos primeros conflictos sindicales en las minas de carbón de la zona de los Apalaches, zona que confluye desde el sur de Nueva York hasta el norte de Mississippi.
De nuevo Neil Young acompaña su música junto a los Crazy Horse con unas imágenes de la película y obra maestra de D.W. Griffith "El nacimiento de una nación" (Birth of the Nation) de 1915 y que describen fielmente el significado de la canción y a buen seguro manifiesta el doble sentido de las imágenes del filme con la letra original.
Despedida de los soldados sureños con sus mujeres y familias para luchar contra los confederados, los mensajes subliminales de los enamorados y esas mujeres que vendrán por las montañas, racismo, batallas a campo abierto, el fin del mundo, las luchas obreras, campos de minas, en definitiva, la historia de Estados Unidos .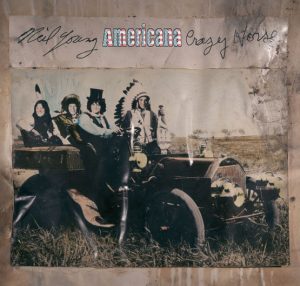 Junto a Bob Dylan y otros pocos artistas, Neil Young  ha sabido destripar debidamente el Folk y regenerar esas longevas y maravillosas canciones Folk, con riffs salvajes y adrenalina pura desde su guitarra y correa legendaria «Peace Snake» (serpiente pacífica) y su guitarra negra inconfundible "Old Black" Gibson Les Paul Goldtop del 53 con esos solos furiosos y precisos de pasión.
She'll be coming 'round the mountain when she comes, (when she comes).
Neil Young el pasado 1 de mayo le daba la primera sorpresa  a sus fans con la presentación del primer vídeo  "Oh Susannah" y nuevo tema del próximo disco con Crazy Horse, «Americana» el próximo 5 de junio.
No dudes en leer nuestro artículo sobre su nuevo disco Americana, lo orígenes de ese disco, las canciones originales y todo lo relativo a los nuevos proyectos de Neil Young junto a Crazy Horse.
En enero de 2012, Neil Young daba una rueda de prensa junto al director de cine Jonathan Demme para dar los primeros detalles de la grabación de dos discos junto con los Crazy Horse, primero de éste "Americana" en el que combina clásicos del Rock, Rythm & Blues, Gospel, Country y Folk.
El disco grabado en los estudios Audio Casa Blanca con la producción del propio Neil Young, John Hanlon y Mark Humphreys, se pondrá a la venta el próximo 5 de junio con 11 temas: Oh Susannah, Clementine, Tom Dooley, Gallows Pole, Get A Job, Travel On, High Flyin' Bird, She'll Be Comin 'Round The Mountain, This Land Is Your Land, Wayfarin' Stranger y God Save The Queen.
Clásicos de Stephen Foster, Percy Montrose, The Kingston Trio, Led Zeppelin, Silhouettes, Billy Grammer, Jefferson Airplane, Carl Sandburg (Ramblin' Tommy Scott), Woody Guthrie, Burl Ives y The Sex Pistols.
Te presentamos una lista de reproducción con las canciones originales de nuevo disco de versiones de Neil Young & Crazy Horse, «Americana».
Además Neil Young presenta el nuevo trailer de Journeys del director Jonathan Demme, del que Young habla de Toronto su ciudad natal y de su gira en solitario durante el 2011 y su actuación en el Massey Hall de Toronto, Canadá. Se desconocen a dia de hoy fecha de estreno mundial del filme.
Neil Young & Crazy Horse just released "Jesus' Chariot (She'll be Coming Round the Mountain)", song and video from the new album, Americana, comes out June 5, with Crazy Horse, Billy Talbot, Ralph Molina and Poncho Sampedro.  This song have been paired up with archival footage by D.W. Griffith's  Birth of a Nation from 1915.