The Clams regresan a su pecera habitual de los domingos, la maravillosa formación de ocho almejas de Soul femenino darán otro concierto en acústico en la Sala Siroco Lounge, Madrid,  el domingo 13 de mayo, a partir de las 9 de la noche por sólo 5 euros.
Aida Clam (voz), Moni Clam (coros y percusión), Marina Clam (coros y bajo), Henar Clam (guitarras) y Lila Feinsilber (trombón) componen el quinteto acústico de las ocho mujeres que constituyen la formación original.
Dirty Rock no se cansa de repetirlo, ya que como todo molusco musical nos engendrarçan abriendo y cerrando nuestras almas, estamos convencidos de ello.
No las pida a la marinera o en salsa verde, pídalas en su "soul-sa".
Próximo conciertos de The Clams en España:
Domingo 13 de mayo en Los Domingos AL Soul de Siroco Lounge, Madrid
Lunes 14 de mayo en Las Vistillas, Fiestas de San Isidro, Madrid
Viernes 25 de mayo Festival de Música Diversa, Segovia
Miércoles 30 de mayo Charada Club, Madrid
Sábado 9 de junio Fiesta Privada
Sábado 16 de junio concierto benéfico ONG Naya Nagar, Sala Ramdall, Madrid
Sábado 23 de junio Noche de los Teatros, Segovia
Sábado 18 de agosto Los Molinos, Madrid
Sábado 8 y Domingo 9 de septiembre Slap Festival, Zaragoza
The Clams en la Sala Siroco Lounge en formato acústico
¡Ellas pueden hacerlo!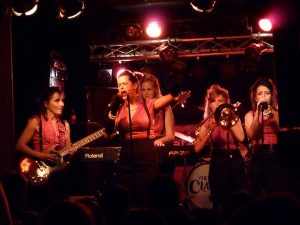 ¡Ellas pueden hacerlo!