Keep on Rockin' in the free World !!!
La que se está armando en Nueva York con el «Global Citizen Festival» el próximo 29 de septiembre en el Central Park con un gran concierto de Neil Young & Crazy Horse, Foo Fighters, The Black Keys, Band of Horses y K'Naan.
Con el «Global Festival«, se pretende ayudar a muchisimas familias que luchan contra la pobreza en el mundo.
El objetivo es recaudar en principio 100 millones de dólares en donaciones. 54 mil entradas se han puesto a disposición para que puedas hacer tu aportación y ganar un par de entradas al evento.
Global Citizen Festival, será retransmitido en directo por el canal de televisión Palladia, y a través de las páginas webs de VH1, el periódico digital del New York Times y el canal Youtube del festival.
https://youtu.be/OC3t5NqywkE
Katie Couric preside el comité del festival, en el que incluyen al economísta Jeffrey Sachs, el creador de Twitter Jack Dorsey las actrices Sophia Bush, Olivia Wilde, Minka Kelly, las cantantes Selena Gomez y Katharine McPhee y la modelo Erin Hetherton.
Sábado 29 de octubre a partir de las 16:30 horas local (21:30 GMT), streaming a través de VEVO del Global Citizen Festival desde el Central Park en Nueva York.
El gran festival  comenzará a las 21:30 hora canaria (22:30 hora peninsular), 4:30 p.m horas norteamericana.
Puedes ver el concierto en el siguiente vídeo /// Watch Global Festival at the next video:
El  «Global Festival» está organizado por Global Citizen Festival, haciendo hincapié y defensa de diferente programa contra la pobreza en el mundo como los programas Half the Sky, Pencils of Promise, World Food Program o la Fundación UNICEF.
Os mantendremos informados desde Dirty Rock.
Keep on Rockin' in the free World !!!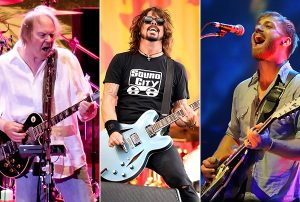 Recientes articulos en Dirty Rock de:
These days, it seems like Neil Young, the Black Keys, and the Foo Fighters show up in the headlines every few hours.The latest buzz has the three acts headlining an anti-poverty fundraising event in New York on September 29th.
Called the Global Festival, the acts will share Central Park's Great Lawn stage with Band of Horses and K'naan in the name of raising awareness (and money) to aid in ending poverty worldwide.
So how do you get tickets? It isn't as easy as logging onto Ticketmaster and purchasing them (unless you want V.I.P. passes, of course) – the organization putting on the event, the Global Poverty Project, has placed 54,000 tickets in an online lottery.
Aspiring attendees can sign up to join the cause, and then must earn "points" with which they can enter the drawing. Ways to earn these points include signing petitions, spreading awareness on the Internet and otherwise, and making donations yourself. Once you've acccumulated enough points, you will be entered into the drawing for a pair of tickets.
Katie Couric, the host committee for the festival includes actresses Olivia Wilde (on behalf of the Half the Sky movement), Sophia Bush (Pencils of Promise) and Minka Kelly (World Food Program), singers Selena Gomez (U.S. Fund for UNICEF) and Katharine McPhee (Malaria No More), as well as economist Jeffrey Sachs, Twitter co-creator Jack Dorsey and model Erin Hetherton.
More info here https://globalpovertyproject.com/app/webroot/globalfestival/