Jesus of Cool ha llegado, And So it Goes…
Nick Lowe regresa a España el próximo abril de 2013 en formato acústico con su voz y su guitarra por seis ciudades españolas (Santiago, Avilés, Zaragoza, Madrid, Badalona y San Sebastian),  el abril próximo, reproduciendo su espléndido último disco "The Old Magic" y un grandioso repertorio de más de 40 años de carrera musical del "Jesus of Cool".
Fantástico disco tributo al "Jesus of Cool",  Nick Lowe acaba de publicarse  el pasado 18 de septiembre, el disco en cuestión se  llama "Lowe Country: The Songs of Nick Lowe" y reúne a trece artistas emergentes y otros no tanto, dentro de la nueva hornada de la Americana Music como Hayes Carll, Caitlin Rose, Amanda Shires, Robert Ellis, Chatham County Line, The Parson Red Heads, Lori McKenna, Ron Sexsmith,  Colin Gilmore, JEFF the Brotherwood, Erin Enderlin, The Unsinkable Boxer y Griffin House, que puedes leer y escuchar en nuestro artículo.
"The Old Magic" es el álbum número trece de la carrera de Nick Lowe, publicado el pasado 12 de septiembre de 2011 tras cuatro años de silencio. El disco se grabó en Londres y cuenta con las aportaciones de nombres como Ron Sexsmith, Paul Carrack y Jimmie Vaughan. Ocho nuevos cortes escritos por él mismo junto a tres versiones de Elvis Costello, Jeff West y Tom T. Hall en los que mantiene su máxima de, calidad por encima de cantidad.
Nick Lowe, sexagenario, cuando muchos de sus colegas se conforman con vivir de reputaciones pasadas, Nick Lowe disfruta de una segunda oportunidad sobre los escenarios de una manera extraordinaria. Su disco "The Old Magic" lo confirma.
Escucha "The Old Magic" de Nick Lowe

Nick Lowe y sus comienzos se sitúan a finales de los 60, donde se inició en 1969 en la banda Brinsley Schwarz, comenzando a tocar country y blues-rock, y que abandonaría en el 74. Sus trabajos de composición y producción lo convierten en "proveedor" original de subversiones para gentes como Elvis Costello, Kursaal Flyers, Dr. Feelgood, Graham Parker, Clover, The Damned o Wreckless Eric. Su álbum de debut llegó en el 78 con el título de Jesus of Cool  rebautizado en Estados Unidos como Pure Pop for Now People (Puro pop para la gente de ahora).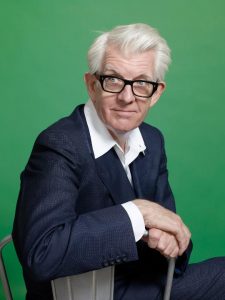 Nick Lowe, maestro del pop y figura destacada dentro de la industria musical británica, en su faceta de productor para Stiff Records, y al margen de sus discos como intérprete, ejerció notable influencia en la new wave y el punk de finales de la década de los 70. Ahora, después de una prolífica carrera de 40 años vuelve a reinventarse con su "Vieja Magia" donde refleja todo el country y el rythm and blues que bebió desde su infancia.
Nick Lowe, reconoce que mucha gente piensa que el "(What's So Funny 'Bout) Peace, Love and Understanding" es de Elvis Costello, y que muchos aficionados le han atribuido como suya la versión que hace del "The Beast in Me" compuesta por su suegro Johnny Cash. Mencionar que Nick Lowe estuvo casado con Carlene Carter, la hijastra de Johnny Cash, asentándose en Nashville y componiendo y grabando con y para el gran Johnny Cash.
Jesus of Cool ha llegado, And So it Goes…
Fechas de la gira de Nicl Lowe en España Abril 2013.
6 de abril en Santiago de Compostela (Capitol)
7 de abril en Avilés (Centro Internacional Niemeyer)
8 de abril en Zaragoza (El Plata)
10 de abril en Madrid (Joy Eslava)
12 de abril en Badalona (Festival Blues i Ritmes, Teatro Zorrilla)
13 de abril en San Sebastián (Teatro Principal)