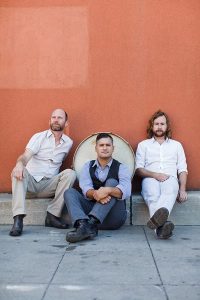 Elliott Brood es otra de las grandes bandas desconocidas por el gran público, trío canadiense de Rock, Folk y Country que presenta en España el próximo febrero su tercer disco "Days into Years" (2011) en tres ciudades Barcelona (Rocksound) el 13 de febrero, Madrid (Sala Copérnico) el 14 de ferbrero y Bilbao (Sala Azkena) el 15 de febrero.
Elliott Brood está formado por Casey Laforet (voz, guitarra, bajo), Mark Sasso (guitarra, banjo, ukelele, voz) y Stephen Pitkin (batería), el trío canadiense que de manera gradual e inapreciable para muchos, se han convertido con sus tres discos en una banda abrasadora e imprescindible dentro del Alt. Country.
"Ambassador" (2005), "Mountain Meadows" (2008) y su último y fantástico "Days into Years" (2011), hacen de ellos un grupo imprescindible para su escucha para todo amante de la buena música y fantásticas letras.
Elliott Brood se mueven por esa ruta marcada del Country Rock que han dado sus compatriotas Neil Young, Blue Rodeo, Leonard Cohen, Daniel Lanois, Joni Mitchell, o Anne Murray, y ahora mismo ellos son referente de la actual música canadiense, al igual que nombres como Cuff the Duke, Skydiggers, The Sadies, Kathleen Edwards, Sarah McLachlan, Great Big Sea, o el super grupo de moda en los años noventa en Estados Unidos y medio mundo como Cowboy Junkies.
Elliott Brood, es todo espíritu festivo Crazy Horse y Blue Rodeo, en sus tres disco y sobre todo en sus conciertos, donde convierten el lugar en una verdadera fiesta y frenesí, "Days into Years" publicado en Europa el pasado otoño fue uno de los mejores discos del año sin duda, su disco más abierto y enfurecido que sus anteriores "Lindsay", "If I get Old", "Hold you" y "Will they try to Bury us" son abrasadoramente maravillosas.
Mujeres incorruptibles, almas incendiarias, carreteras sin final, corazones destrozados, enterramientos, armas, alcohol, asesinatos, amor, pueblos vacíos, polvo, problemas, odio, son los sacrementos de esta enorme banda llamada Elliott Brood, los Drive By Truckers o Jason Isbell & The 400 Unit canadienses, una banda como la copa de un pino, ¡imposible perdérselos en directo!
Elliott Brood comienzan su gira europea el próximo 7 de febrero en Holanda hasta el 3 de marzo, vistando Suiza, Francia, Escocia, País de Gales, Inglaterra, Bélgica y Alemania.
Gira española de Elliott Brood 2013, fechas:
13 Febrero, Barcelona, RockSound
14 Febrero, Madrid, Sala Copérnico (+ The Baked Beans In Tomato Sauce Brothers)
15 Febrero, Bilbao, Sala Azkena
Escucha "Days into Years" de Elliott Brood