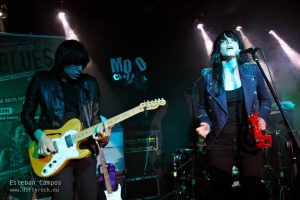 The Last Internationale están a punto de editar "New York, I Do Mind Dying", tercer trabajo de los neoyorquinos. Su primer trabajo, editado en el 2009 lleva por título el mismo nombre de la banda, "The Last Internationale" y su segundo disco "Choose Your Killer", salió al mercado en el 2011, ambos bajo el sello Manifesta Records and DIT Records.
Dirty Rock entrevista a The Last Internationale (LTI) ante su inminente gira europea 2013, que comenzará el 13 de febrero en Portugal, con una fecha confirmada el Festival Son de Vez el 16 de febrero. Siete ciudades españolas entre febrero y marzo del 2013, entre las que se encuentran Avilés, Alcalá de Henares, Almansa, Aranda de Duero, Las Palmas de Gran Canaria, San Cristóbal de La Laguna en Tenerife y Barcelona. Aún hay fechas por confirmar en Francia e Italia.
The Last Internationale es una risueña y socialmente comprometida banda fundada por Edgey (guitarra) – de padres portugueses de Arcos de Valdevez – y Delila Paz Hdez (voz y armónica) – de padres portorriqueños – cuando Edgey, amante del Blues y el Rock'n'Roll, después de mucho buscar, encontró por fin a la valiente y preciosa Delila en una de sus actuaciones de folk político en un local de la ciudad de Nueva York.
Escucha «New York, I Do Mind Dying»
La nueva grabación de los norteamericanos The Last Internationale,  presenta al grupo en el estudio de grabación en Oporto, Portugal, los Estúdios Sá da Bandeira, con la ayuda de Joao Brandao. Todo el material grabado en analógico.
"Cod'ine", es el primer single del nuevo disco "New York, I Do Mind Dying", que presentó The Last Internationale el 8 de junio en Las Palmas de Gran Canaria.
Vídeo grabado por Dirty Rock en su concierto de Las Palmas el 8 de junio de 2012.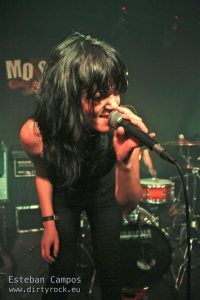 Entrevista a The Last Internationale realizada por Esteban Campos Trujillo y Carlos Pérez Báez. Fotos de Esteban Campos y Vídeos de Carlos Pérez Báez.
| | |
| --- | --- |
| 1. After Hurricane Sandy hit New York City, causing the worst flooding documented in the city, is obliged to ask you how do you have affected  and how are you right now?One of the hardest hit districts has been to Queens, where you develop a large part of your life, but also Portugal, in recent times | En estos momentos en los que vuestra ciudad se ha sentido azotada por el huracán Sandy, provocando la mayor inundación documentada en NY, es obligado preguntaros ¿Cómo os ha afectado y cómo os encontráis? Uno de los distritos más castigados ha sido el de Queens, donde desarrolláis gran parte de vuestra vida, además de Portugal, en los últimos tiempos. |
| A lot of people have seen their homes completely destroyed, many lost their cars, and over 100 people were killed. The hurricane also devestated the Caribbean, which has received very little attention here at home. We, the band, only had our power and electricity go out for several days. | Un montón de gente ha visto como han perdido sus casas, la mayoría de sus coches y más de 100 personas han fallecido. El huracán devastó el Caribe, y recibió muy poca atención por parte de los medios desde Estados Unidos. Nosotros, la banda pudimos salir y tocar en algunos sitios donde había electricidad. |
| 2. Have you prepared a new tour of Europe and particularly in Spain earlier this year, February and March? Are we advancing the rooms that you could have closed to date? Canary Islands? Your agenda will be in? | Entrando en materia y directamente ¿Tenéis preparada una nueva gira por Europa y en particular por España a principios de año, meses de febrero y marzo? ¿Nos podríais adelantar las salas con las que tenéis cerradas la fecha? ¿Canarias estará en vuestra agenda? |
| The full tour schedule will be released very soon, but you're right that we'll be in Spain and the Canary Islands in February and March. In fact, we'll be at The Paper Club in Las Palmas on March 1st and then Tenerife the next day. | La gira al completo con fechas y ciudades estará lista muy pronto. Pero sí, te puedo avanzar que tocaremos en las Islas Canarias en marzo. De hecho, The Last Internationale tocará en el The Paper Club en Las Palmas de Gran Canaria el día 1 de marzo y el dos de marzo en Tenerife. |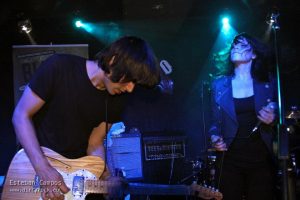 | | |
| --- | --- |
| 3. We still have fresh in our memory of your visit to the Canary Islands on 8 June. How do you remember those days when this land and aterrizasteis girasteis by most of Spain? | Todavía mantenemos fresco en nuestra memoria el recuerdo de vuestra visita a Canarias el pasado 8 de junio. ¿Cómo recordáis vosotros aquellos días en los que aterrizasteis por estas tierras y girásteis por casi toda España? |
| We had such a great time that we can hardly remember ahahha. What I do remember is arriving at the airport, meeting a lot of great people, playing to an incredibly enthusiastic crowd who liked to pull our hair while on stage, and then being back at the airport a few hours later. Next time we will at least touch the sand. | The Last Internationale se lo pasó fenomenal durante su concierto en Las Palmas de Gran Canaria, pero no me acuerdo de mucho, jajaja. Recuerdo que llegamos al aeropuerto, conocimos a gente increíble, tocamos ante una audiencia muy entusiasta, que quería hasta tirarnos de los pelos en el escenario, y unas horas más tarde al aeropuerto de nuevo. La próxima vez, seguro que tocaremos la arena de la playa. |
| 4. On that occasion at the Spanish tour are on bass  was Son Marcus and Fernando Silva on drums. Of these, it seems, remains in training just Fernando Silva. Is that so? | En aquella ocasión os acompañaron por toda la gira Son Marcus al bajo y Fernando Silva a la batería. De ellos, al parecer, sólo permanece en la formación Fernando Silva. ¿Es así? |
| Yes, Fernando is still with us. Son Marcus is currently in Texas. | Sí, Fernando estará con nosotros. Son Marcus ahora mismo vive en Texas. |
| 5. Could this be the formation of The Last Internationale that soon tour to Europe and Spain (Edgey, Delila, Fernando)? | ¿Será esta la formación de The Last Internationale que gire próximamente por Europa y España (Edgey, Delila, Fernando)? |
| Very well could be. The band sounds the tightest its ever been, so if we decide to invite another person to tour with us he or she would really have to contribute something special. | Sí, probablemente. The Last Internationale suena más conjuntada así que nunca, así que si decidimos invitar a alguien a tocar con nosotros en la próxima gira, tiene que ofrecernos algo extra, algo especial. |
| | |
| --- | --- |
| 6. Another thing  that you have about the new work of the band, an newEP called "New York, I Do Mind Dying", Can you advance more about your new record? Will it high doses of Blues, R & R, Folk and Punk as Choose Your Killer, your previous job? Do you keep any surprises? | Otra de las cosas que tenéis a punto es el nuevo trabajo de la Banda, un EP ¿Cuántos cortes va a tener el mismo? ¿Habrá en él altas dosis de Blues, R&R, Folk y Punk como en Choose Your Killer, vuestro anterior trabajo? ¿Guarda alguna sorpresa? |
| The EP includes 5 songs from over a dozen of songs we recorded during our sessions last summer at Estudios sa da Bandeira in Porto, Portugal. These are live recordings on tape- 100% analog. It was a full week of nothing but partying and playing in a very hectic and chaotic environment. The songs we chose for the EP are mostly renditions of old blues numbers while the originals were saved for another album. There will be a surprise with our next single, "Moanin' at Midnight," a Howlin' Wolf cover that magically came together and is so explosive that it still surprises me every time I hear it. A lot of credit should be given to Joao Brandao, who is the only person to properly understand the essence of this band and help create and capture the tones we've been searching for all along. As an engineer, that poor guy probably had no idea he would take on the task of producing The Last Internationale, but that is another story. | El nuevo EP de The Last Internationale "New York, I Do Mind Dying", contiene 5 canciones obtenidas de más de una docena de temas que grabamos en los estudios portugueses de Estudios sa Bandeira en Oporto. Son grabaciones en directo, grabados cien por ciento a la vieja usanza, analógico. Las canciones que eligió The Last Internationale, son re-interpretaciones de viejos temas de Blues, mientras que las originales las hemos grabado para otro próximo disco. Habrá una sorpresa en nuestro próximo single, "Moanin' at Midnight," una version de Howlin' Wolf que realmente suena muy explosiva y hasta me sorprende cada vez que la vuelvo a escuchar. Tengo que darle el valor que se merece a Joa Brandao, nuestro ingeniero para el nuevo disco, que entendió perfectamente la esencia que queríamos para el nuevo álbum, capturando esos tonos tan deseados. Como ingeniero, el pobre tipo probablemente no tenía ni idea de lo que se le avecinaba al grabar a The Last Internatioanale, pero eso es otra historia. |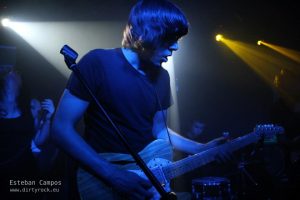 | | |
| --- | --- |
| 7. Why have you chosen an EP instead Cd or LP? In some interview you mentioned you have material for 5 discs. | ¿Por qué habéis optado por un EP y no un LP? En algún medio habéis comentado que tenéis material para 5 discos. |
| Well, as stated above, we decided to throw all of the covers in one release. On this EP there are 4 covers and one original. It is almost entirely a blues and boots album. | Bueno, como dijimos antes, The Last Internationale decidió lanzar todas las versiones en una sola publicación. El EP contiene 4 versiones y una canción original. Es casi un ábum por completo un álbum Blues & Boots. |
| 8. We know that you have given great importance to the quality of the recording and the result of this new work, in an attempt to improve the conditions in which they recorded "Choose Your Killer", but  why in Portugal (Studies Sá da Bandeira) to record instead of USA? How hard is to find a studio that you connected with your idea? | Sabemos que le habéis dado gran importancia a la calidad de la grabación y al resultado de este nuevo trabajo, en un intento de mejorar las condiciones en la que se grabó "Choose Your Killer", pero ¿Y por qué Portugal (Estudios Sá da Bandeira) para grabarlo en vez de USA? ¿Tan difícil ha sido encontrar un estudio que haya conectado con vuestra idea? |
| We have scoped out dozens, if not hundreds, of studios throughout the years and could never find the right fit. Most studios are digital, and the few that offered analog services made excuses as to why we should either go digital or combine digital with analog. Even the few studios (very few) that were willing to go all analog didn't have the right equipment or a good live room or were so lamed out by modern music or all of the above. At Sa da Bandeira, Joao and the rest of the staff actually know who the hell Howlin' Wolf is and aren't interested in making us sound like these popular electro-blues bands you hear on the radio and in tv commercials. | Hemos buscado a decenas o diría cientos de estudios de grabación, pero nunca encontramos el apropiado o el que fuese con nuestras ideas. La mayoría de estudios en Nueva York graban en digital, y algunos graban en analógico, pero argumentan a favor del digital o combinar digital con analógico. Y los pocos estudios que se mostraron a favor de hacerlo todo en analógico, no tenían el equipo adecuado o una buena sala para grabar en directo o estaban muy influenciados por música moderna o todo lo anterior. En en los estudios Sa da Bandeira, Joao Brandao y los demás, saben quién es Howlin' Wolf y no están interesados en que sonemos como esas bandas de Blues electrónico para la masa que se escuchan en la radio y en los anuncios de televisión. |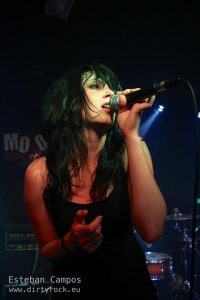 | | |
| --- | --- |
| 9. Are you still committed to the social movements which are struggling with the model imposed on us? Are you defending a better world with it? | ¿Seguís comprometidos con los movimientos sociales que están en lucha con el modelo que nos han impuesto? ¿Reivindicáis con él un mundo mejor? |
| Yes, of course. We will fight for a better world as long as there are capitalists to fuck it up. | Sí, por supuesto. Seguiremos lucharemos por un mundo mejor mientras haya capitalistas haciendo lo contrario. |
| 10. How about new bands at New York or US are doing similar job like you? | ¿Conocéis nuevas bandas en Nueva York o en el resto de Estados Unidos que hagan un trabajo similar al vuestro? |
| We have no idea what other bands are doing. | No tenemos ni idea. |
| 11. After the European experience touring, Which're the difference between both audiences, US and Euro? | Tras vuestra primera experiencia y gira europea, ¿cuál es la diferencia entre ambas audiencias, la norteamericana y la europea? |
| It's not fair to compare the audiences of two countries, especially since audiences vary from town to town in any country. Every crowd is unique and different in its own way. We can play Lisbon two nights in a row, for example, and have two completely different crowds. We appreciate the fact that people are different and express their love for the band in different ways. However, one good thing that all of our fans have in common is that they get pretty rowdy and drunk at our shows. In the Canary Islands, apparently, they like to pull hair ahhaha. | No sería justo comparar ambas audiencias, especialmente porque ya son distintas entre dos ciudades de un mismo país. Cada público es único y diferente a su manera. The Last Internationale puede tocar en Lisboa dos noches seguidas, por ejemplo, y cada noche puede ser diferente en cuanto al público. Apreciamos y preferimos que la gente sea diferente y expresen ese amor que llevan dentro hacia nosotros. Sin embargo, una cosa en común que tiene todo público, es que son demasiado alborotadores y borrachos en nuestros conciertos. En las Islas Canarias, en nuestro concierto de Las Palmas de Gran Canaria, parece que al público le gusta tirarnos del pelo, jajajaja. |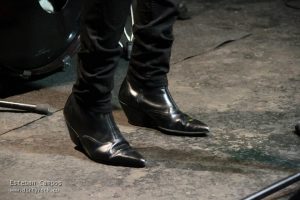 | | |
| --- | --- |
| 12. What do you expect with your new album and the reaction of the audience, related with the previous ones and last tour? | ¿Qué espera The Last Internationale en cuanto a la reacción de vuestros admiradores cuando salga vuestro nuevo disco y gira? |
| I think they will respond rather well to the album. I think they will all agree that we created a new standard for ourselves that they will hold us and other bands to in the future. | Creo que a nuestro público le gustará nuestro próximo disco. Creo que estarán de acuerdo en que nos hemos creado un patrón y eso hará que en el futuro apoyen a nuestra banda y a otras. |
| 13. Any good record you've listened lately can you name us, it doesn't matter if it's old or new one? | ¿Habéis escuchado algún buen disco últimamente y que os haya llamado la atenciòn? |
| Yes, our new album- go pick it up ahhaa. | Sí, nuestro nuevo disco "New York, I Do Mind Dying", ¡venga y pídelo ya! jajajajaja. |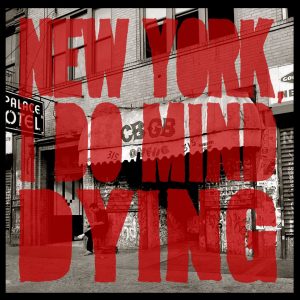 | | |
| --- | --- |
| 14. Is There anything you want to tell us we won't ask you? | ¿Hay algo que os gustaría decir y que no os hayamos preguntado? |
| We'd like to thank Dirty Rock for being such a great magazine and for the readers who keep independent publications and music alive. | Nos gustaría adar las gracias a Dirty Rock por ser una revista tan genial y a los lectores por mantener vivas las publicaciones independientes y la música. |
| 15. Would you mind send Dirty Rock readers a message and encourage them to see you in your upcoming shows? | ¿Os gustaría enviar un mensaje a los lectores de Dirty Rock y encomendarlos a ver uno de vuestros conciertos? |
| Cops, politicians, capitalists, and scabs are NOT welcome at our shows. Everyone else: let's start this revolution! | ¡¡Policías, políticos, capitalistas y esquiroles, NO sóis bienvenidos en nuestros conciertos!! A todos los demás: ¡comencemos esta revolución! |
The Last Internationale gira europea y española 2013:
-Portugal
8 febrero, Penafiel, Casa do Xiné
9 febrero, Tirso, Bar Carpe Diem
13 febrero, Coimbra, Pop Fresh
15 febrero, Oporto, Armazem
16 febrero, Arcos de Veldevez
-España
21 febrero, Madrid, Wurlitzer Ballroom
22 febrero, Avilés, Niemeyer Club
23 febrero, Ferrol, Super 8
24 febrero, Burgos, Estudio 27
25 febrero, Almansa, La Cabaña del tío Rock
26 febrero, Orihuela, Auditorio La Lonja
27 febrero, Alcalá de Henares, Ego Live
28 febrero, Aranda de Duero
1 marzo, Las Palmas de Gran Canaria, Paper Club
3 marzo, Barcelona, Sidecar
15-17 agosto, Burgos, Sonorama Festival, Ribera 16
The Last Internationale estarán en Francia, Inglaterra y Holanda en marzo y Alemania e Italia en abril de 2013, presentando su nuevo trabajo "New York, I Do Mind Dying".