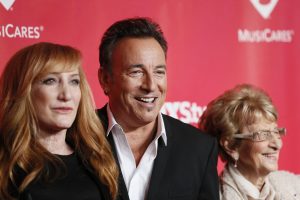 Bruce Springsteen recibió el Musicares "Person of the Year" anoche 8 de febrero por parte del sindicato de la industria musical norteamericana, rodeado de grandes estrellas como Neil Young & Crazy Horse, Patti Smith, Emmylou Harris, Jackson Browne, Elton John, Alabama Shakes, Natalie Manes (Dixie Chicks), Ben Harper and Charlie Musselwhite, Jim James (My Morning Jacket) Mavis Staples, Zac Brown, Tom Morello, Kenny Chesney, John Legend, Faith Hill, Tim McGraw, Sting y Juanes.
Musicares "Person of the year", fiesta paralela a los premios Grammy's que se entregan el domingo 10 de febrero, sirvió para rendir tributo a Bruce Springsteen, grandísimo músico y compositor, uno de los más grandes, un idealista, en el que la crítica social está omnipresente en toda su obra, pero el sueño americano del que habla en sus canciones desorientado, está muy lejos de su realidad social.
The Boss le canta a los sentimientos, a la vida, a la dignidad, puntos fundamentales del éxito y comunión con el público. Muchísima gente cree que conoce la obra de Bruce Springsteen, y en realidad no es del todo cierto.
Muchos, se ponen en evidencia a sí mismos despreciándolo por "demasiado americano", cuando en realidad su música es universal. No hay ambigüedad en la letra de Born in the USA, no es una carta de amor incondicional a la América profunda como puedan serlo otras canciones, sólo hay que saber escuchar o traducir sus canciones.
Bruce Springsteen ha publicado diecisiete álbumes de estudio y ha ganado 20 premios Grammy, ha ganado Oscar de Hollywood por su canción «Streets Of Philadelphia», del filme «Philadelphia» en 1993 y pertenece al  Rock and Roll Hall of Fame desde 2009.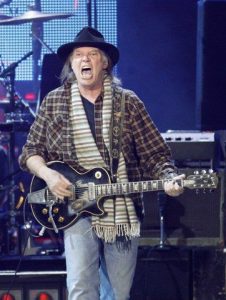 La gala del MusiCares 2013 comenzó con la subasta de una de las guitarras firmadas por Bruce Springsteen, un Fender, con un precio inicial de sesenta mil dólares (45.000 euros), la guitarra consiguió venderse en 250.000 dólares (187.000 euros), para recaudar fondos de la organización y conseguir realizar tratamiento médico a músicos sin ingresos, seguros sociales y tratamiento de reinserción, a causa de las drogas y el alcoholismo.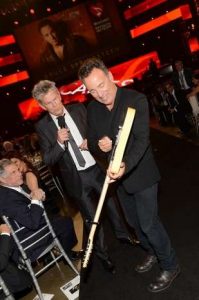 Bruce Springsteen quedó tan contento que invitó al nuevo dueño de su guitarra a darle ocho entradas VIP para estar en el backstage, una clase de guitarra con Springsteen, una vuelta en su moto Harley Davidson y la oportunidad de comer la lasaña de su madre, Adele Springsteen que se encontraba en la cena y gala del MusiCares.
A Bruce Springsteen lo acompañó su esposa y miembro de la E Street Band, Patti Scialfa, dos de sus hijos, Sam y Jessica, su madre, Adele Springsteen y su hermana Pamela.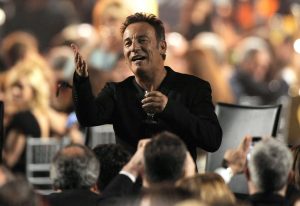 El maestro de ceremonias del MusiCares fue el presentador de televisión Jon Stewart y entre el público se encontraban los actores Johnny Depp, Sean Penn, o Rita Wilson la esposa de Tom Hanks, Bonnie Raitt, Faith Hill, Katy Perry, Conan O'Brien o Johnny Rzeznik (Goo Goo Dolls).
Tras la actuación de los invitados en el homenaje a Bruce Springsteen como personaje del año para MusiCares, Bruce Springsteen afirmó que tras escuchar a John Legend hizo que su canción sonara a Gershwin en «Dancing in the Dark», y la versión de Neil Young & Crazy Horse de «Born in the USA» le recordó a los Sex Pistols.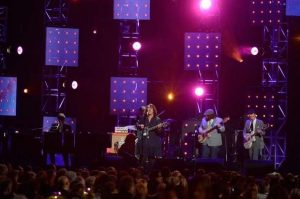 Bruce Springsteen hablo de la importancia de los músicos en la cultura y del «milagro de la música», y de que de alguna manera bromeaba como al final era honrado con tan distinguido honor. Bruce Springsteen confirmaba que grabó un disco Country hace unos meses y que no sabe aún la fecha de su publicación, y que ya está escribiendo nuevas canciones.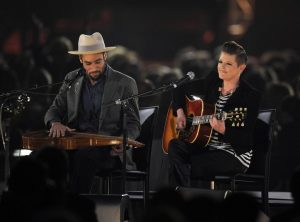 The Boss dijo haberse sentido «freaky» (raro) en la fiesta, «es como haber estado en una gran boda italiana con mi mujer Patti Scialfa que nunca tuvimos o un Bar Mitzvah (primera comunión judía), os lo debo todo, me habéis hecho sentir la persona del año, ahora dame esa jodida de una vez».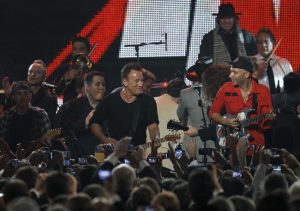 Bruce Springsteen se subió al escenario e interpretó cinco canciones, We Take Care Of Our Own, Death To My Hometown (con Tom Morello), Thunder Road (con Roy Bittan, Max Weinberg, Garry Tallent), Born to Run y Glory Days con todos los músicos en el escenario.
Bruce Springsteen & the E Street Band tocarán en España en Gijón, único concierto de la gira europea en nuestro país, según la promotora Doctor Music el 26 de junio en el Estadio del Molinón.
Setlist del MusiCares Person of the Year 2013 a Bruce Springsteen
1. Alabama Shakes – Adam Raised a Cain
2. Patti Smith – Because the Night
3. Natalie Maines, Ben Harper, Charlie Musselwhite – Atlantic City
4. Ken Casey (Dropkick Murphys) – American Land
5. Mavis Staples & Zac Brown – My City of Ruins
6. Mumford & Sons – I'm On Fire
7. Jackson Browne & Tom Morello – American Skin (41 Shots)
8. Emmylou Harris – My Hometown
9. Kenny Chesney – One Step Up
10. Elton John – Streets of Philadelphia
11. Juanes – Hungry Heart
12. Tim McGraw & Faith Hill – Tougher Than the Rest
13. Tom Morello & Jim James – Ghost of Tom Joad
14. John Legend – Dancing in the Dark
15. Sting – Lonesome Day
16. Neil Young & Crazy Horse – Born in the USA
Bruce Springsteen solo.
17. We Take Care Of Our Own
18. Death To My Hometown (con Tom Morello)
19. Thunder Road (con Roy Bittan, Max Weinberg, Garry Tallent)
20. Born to Run
21. Glory Days (con todos los músicos en el escenario)