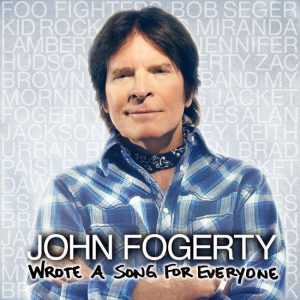 The Old Man down the Road!
John Fogerty publica «Wrote a Song for Everyone» el próximo 28 de mayo, interpretando dos temas inéditos «Mistic Highway» y «Train of Fools» y catorce temas acompañados de artístas como Bob Seger, My Morning Jacket, Zac Brown, Foo Fighters, Brad Paisley, Keith Urban, Alan Jackson, Kid Rock, Tom Morello, Dawes, Allen Toussaint and the Rebirth Brass Band, y sus hijos Tyler Fogerty y Shane Fogerty entre otros.
John Fogerty pone titulo a su nuevo disco, "Wrote a song for everyone", bellísima canción perteneciente al grandioso "Green River" de 1969, tercer disco de los Creedence Clearwater Revival.
«Wrote a Song for Everyone» noveno disco de estudio de John Fogerty, tras dejar Credence Clearwater Revival, fue mezclado por Bob Clearmountain en Los Angeles menos la canción «Proud Mary» con Allen Toussaint and the Rebirth Brass Band, realizándose en Nueva Orleans.
Escucha «Mystic Highway» de John Fogerty en el programa de David Letterman.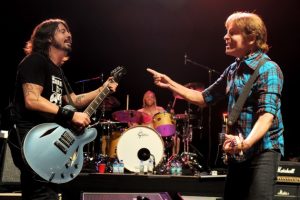 Actuación de John Fogerty y Dawes en el programa de David Letterman interpretando «Someday neves Comes»
Escucha «Wrote a Song for Everyone» de John Fogerty.
Escucha el primer tema inédito de John Fogerty «Mystic Highway».
John Fogerty hace unas semanas se presentó en el estreno del documental de Dave Grohl (Foo Fighters), Sound City en el festival de Sundance en Utah, tras la proyección del filme, se subió al escenario con la banda de Grohl para la ocasión, la Sound City Players,  en la que John Fogerty , Steve Nicks de Fleetwood Mac, Kris Novoselic y Pat Smear de Nirvana, más varios miembros de Foo Fighters, Brad Wilk, batería de Rage Against the Machine, Rick Nielsen de Cheap Trick, interpretaron "Fortunate Song" o "Born on the Bayou" de Creedence Clearwater Revival, entre otras canciones.
Ya os contamos el año pasado en uno de nuestros artículos relacionado con el nuevo disco de John Fogerty, sobre la posibilidad de una reunión con miembros de Creedence Clearwater Revival, Stu Cook o Doug Clifford en San Francisco el pasado enero de 2012, opción que perdió fuerza tras conocerse la publicación del nuevo disco.
También os contamos, en otro de nuestros artículos que puedes leer pinchando en el enlace, que John Fogerty se encuentra escribiendo su libro de memorias, y que estará disponible en 2014.
Dirty Rock asistió a otra de las fechas históricas en nuestro país, como fue la primera visita del genio John Fogerty a España y que te relatamos en crónica del concierto de John Fogerty dio en Madrid, el pasado 13 de julio de 2009.
The Old Man down the Road!
John Fogerty «Wrote a Song for Everyone» tracklist
1. Fortunate Son (con Foo Fighters)
2. Almost Saturday Night (conKeith Urban)
3. Lodi (con Shane Fogerty y Tyler Fogerty)
4. Mystic Highway (John Fogerty solo)
5. Wrote a Song for Everyone (con Miranda Lambert y Tom Morello)
6. Bad Moon Rising (con Zac Brown Band)
7. Long As I Can See the Light (con My Morning Jacket)
8. Born on the Bayou (con Kid Rock)
9. Train of Fools (John Fogerty solo)
10. Someday Never Comes (conDawes)
11. Who'll Stop the Rain (con Bob Seger)
12. Hot Rod Heart (con Brad Paisley)
13. Have You Ever Seen the Rain (con Alan Jackson)
14. Proud Mary (con Jennifer Hudson y Allen Toussaint and the Rebirth Brass Band)