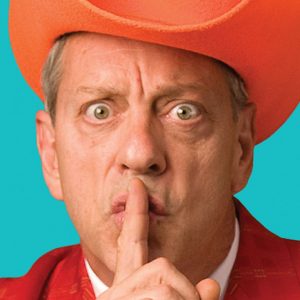 Junior Brown publica su décimo disco de estudio "Volumen Ten", EP de seis canciones construidas bajo su famosa guitarra de doble mástil "Guit Steel", que el propio Brown fabrica y vende desde mediados de los años 80, un híbrido entre una guitarra eléctrica y un lap steel guitar, en el que apreta el acelerador disparando Country, Western Swing, Blues, Hillibilly y Honky Tonk.
Teníamos ganas de hablar de Junior Brown y ha llegado el momento, tras su último disco de estudio que data del 2004, el magnífico "Down Home Chrome", y sus dos posteriores álbumes, un recopilatorio y un directo "Live at The Continental Club: The Austin Experience", los dos del 2005.
Escucha «Volumen Ten» de Junior Brown.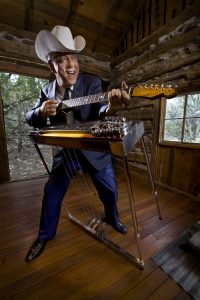 Junior Brown, fiel seguidor de la obra del pionero del Country Ernest Tubb y su escolta al pedal steel, Buddy Charleton, "Volumen Ten" y toda la discografía del magnífico cantante y guitarrista es un homenaje a éstos dos pioneros del género, tras una espera de siete años, en el que echábamos en falta su sonido y sus letras cargadas de imaginación casi siempre con la carretera y los coches como protagonistas.
El sexagenario Junior Brown,  comenzó su carrera musical tocando el pedal steel desde muy jóven, y cantando en bandas como The Last Mile Ramblers, Dusty Drapes and the Dusters y Asleep at the Wheel, mientas lo compaginaba con la docencia en una escuela de arte como profesor de guitarra entre a comienzos de la década de los años 70.
Junior Brown quería conseguir en una sola guitarra, un sonido único, y que abarcase la electricidad y el llanto de la guitarra, para ello comenzó a fabricar su propio prototipo, hasta que en 1985 lo patentó bajo la ayuda del ingeniero Michael Stevens, llamándola "Guit-Steel", ese sonido y su voz profunda, popularizaban a Junior Brown en todo Norteamérica y creando un estilo, el "Junior Brown style"
Tras dejar Junior Brown su Arizona natal, se traslada a Texas y forma su residencia en Austin, se casa con la cantante Country Tanya Rae, recibe el premio de la Country Music Association Award, por su contribución a la música Country, tres nominaciones a los premios Grammy, apariciones en películas como actor, o en vídeos musicales con The Beach Boys en "409", y hasta llegó a ser el telonero de una extensa gira de Bob Dylan en 2006.