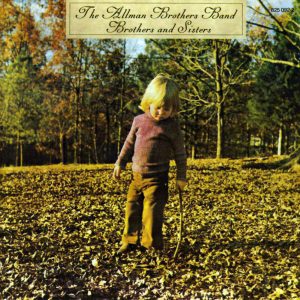 The Allman Brothers Band conmemoran el 40 aniversario de uno de sus mejores álbumes «Brothers and Sisters», tras el fallecimiento del gran Duane Allman y el bajista Berry Oakley que grabó dos temas, los dos muertos en accidentes de tráfico un poco antes de salir el disco en el año de 1973 con éxitos como «Jessica, Ramblin' Man, Wasted Words, Southbound, Pony Boy, Come and Go Blues y Jelly Jelly», a la venta el 25 de junio.
«Brothers and Sisters» de los Allman Brothers Band se remasterizará y será publicado en en diversos formatos, como vinilo, doble CD y Boxse con cuatro CD's y vinilo.
The Allman Brothers grabaron siete canciones para «Brothers and Sisters», seis de ellas inéditas y una versión del «Jelly Jelly» del productor y compositor Trade Martin.
Berry Oakley grabó antes de fallecer «Wasted Words» y «Ramblin' Man», la mayoría de canciones están escritas y compuestas por Dickey Betts y Gregg Allman, Chuck Leavell, actual pianista de The Rolling Stones entró a formar parte de Allman Brothers como nuevo pianista.
En la portada del disco «Brothers and Sisters», aparece el hijo de Butch Trucks, tío de Derek Trucks, y en la contraportada la hija de Berry Oakley.
The Allman Brothers Bands es una de las grandes bandas de la historia del Rock, su sonido contiene Blues y Rock sutil y enérgico, mezcla de los dos grandes géneros, barnizado con improvisaciones de Jazz.
Escucha «Brothers and Sisters» de The Allman Brothers Band.
Los Allman Brothers, miembros del Rock and Roll Hall of Fame desde 1995, dejan un legado de once Discos de Oro y cinco de Platino entre 1971 y 2005, casi una veintena de álbumes publicados y un montón de himnos de Rock Blues con tintes Country y Jazz que quedarán para la historia de la música, "Whipping Post", "Midnight Rider", "Little Martha", "Ramblin' Man",  "One Way Out", "Melissa" o "Ain't wasting time no more" entre otras muchas canciones.
Si quieres leer la crónica del concierto de Dickey Betts en Madrid el 17 de julio de 2012, clica en éste párrafo.