The Rolling Stones invitan a Dave Grohl a subierse al escenario con ellos en su sexto concierto de la gira «50 & Counting» en el Honda Center de Anaheim para interpretar Bitch, del álbum Sticky  Fingers (1971), y en la que interpretaron por primera vez en esta gira «You Got me Rocking», «Bitch»,»Shattered» y «You Got the Silver» intepretada por Keith Richards el 18 de mayo de 2013.
The Rolling Stones han contado con la presencia en sus seis conciertos de la gira norteamericana de Gwen Stefani, Keith Urban, Tom Waits, John Fogerty, Bonnie Raitt, Katy Perry y John Mayer el pasado miércoles en Anaheim.
La interpretación salvaje y ensordecedora de «Bitch» por parte The Rolling Stones y Dave Grohl ha sido de lo mejor en cuanto a invitados, salvando las presencias de Tom Waits, John Fogerty, Bonnie Raitt y John Mayer.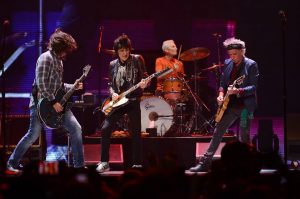 Setlist The Rolling Stones Anaheim, Honda Center 18 de mayo de 2013.
1 – Get Off Of My Cloud
2 – It's Only Rock and Roll
3 – Paint It Black
4 – Gimme Shelter
5 – You Got Me Rocking
6 – Wild Horses
7 – Bitch (Dave Grohl)
8 – Shattered
9 – Doom and Gloom
10 – One More Shot
11 – Honky Tonk Women
12 – You Got The Silver (Keith Richards)
13 – Happy (Keith Richards)
14 – Midnight Rambler (Mick Taylor)
15 – Miss You
16 – Start me Up
17 – Tumbling Dice
18 – Brown Sugar
19 – Sympathy for the Devil
Encore
20 – You Can´t Always Get What You Want 21- Jumpin' Jack Flash
22 – Satisfaction (Mick Taylor)
Fechas gira 2013 The Rolling Stones 50 & Counting tour:
3 Mayo Los Angeles Staples Center
5 Mayo,  Oakland Oracle Arena
8 Mayo San Jose HP Pavilion
11 Mayo  Las Vegas MGM Grand Garden Arena
15 Mayo Anaheim Honda Center
18 Mayo Anaheim Honda Center
20 Mayo Los Angeles Staples Center
25 Mayo Toronto Air Canada Centre, Canadá
28 Mayo Chicago United Center
9 Junio  Montreal
12 Junio Boston TD North Garden
14 Junio Boston TD North Garden
18 Junio Philadelphia Wells Fargo Center
21 Junio Philadelphia Wells Fargo Center
28 Junio Glastonbury Festival, Inglaterra
6 Julio London's Hyde Park, Londres