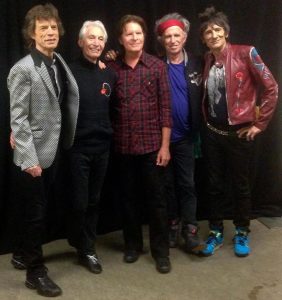 John Fogerty y Bonnie Raitt se sumaron a la fiesta de The Rolling Stones y su 50 aniversario en la ciudad californiana de San José ayer 8 de mayo de 2013, interpretando Bonnie Raitt «Let it Bleed», John Fogerty «It's All Over Now» y Mick Taylor además de tocar «Midnight Rambler», remató la noche con «Satisfaction», que no la tocaba con ellos desde 1973.
The Rolling Stones en su tercer concierto de la gira «50 & Counting», en la ciudad de San José, al sur de San Francisco, área del Silicon Valley y empresas tecnológicas, contaba con las grandes sorpresas de recibir encima de un escenario y por primera vez juntos a John Fogerty y los Stones, Bonnie Raitt ya lo había hecho en varias ocasiones, ambos residen en en área metropolitana de San Francisco, conocido con Bay Area.
La otra gran sorpresa de la noche sucedió al final del concierto, Mick Taylor, cuarenta años después volvía a interpretar con The Rolling Stones «Satisfaction».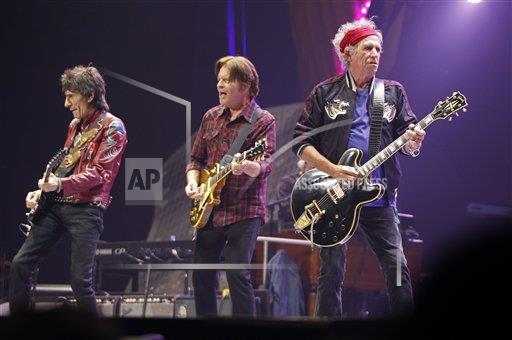 The Rolling Stones pusieron también en marcha el web vote choice (voto de los fans para elegir una canción), primera banda que comenzó a hacerlo en 1997 durante aquella gira Bridges to Babylon Tour, en que sus fans podían elegir a traves de la página web de los Stones sus canciones favorita a interpretar cada noche, la elegida en San José fue «No Expectations», canción del álbum Beggars Banquet de 1968, en el que Brian Jones originalmente volaba con sus slides de guitarra.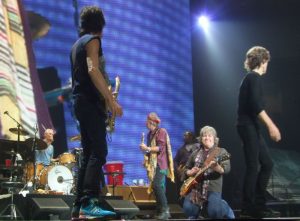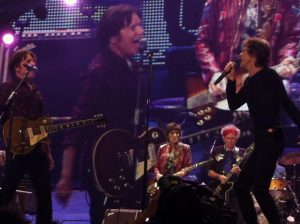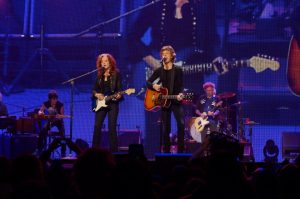 The Rolling Stones en San José, HP Pavilion, 8 mayo 2013.
1. Get off of My Cloud
2. Its Only Rock n Roll
3. Paint It Black
4. Its All Over Now (con John Fogerty)
5. Gimme Shelter
6. No Expectations (canción elegida por los fans de la web de The Rolling Stones)
7. Let It Bleed (with Bonnie Raitt)
8. Emotional Rescue
9. Bitch
10. One More Shot
11. Honky Tonk Women
12. Before They Make Me Run
13. Happy
14. Midnight Rambler (with Mick Taylor)
15. Miss You
16. Start Me Up
17. Tumbling Dice
18. Brown Sugar
19. Sympathy For The Devil
Encore:
20. You Cant Always Get What You Want (con San Jose State University Choraliers)
21. Jumpin' Jack Flash
22. Satisfaction (con Mick Taylor)