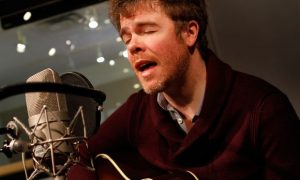 Josh Ritter regresa a España el próximo mes de noviembre con dos conciertos confirmados los días 7 en Madrid (Mobby Dick) y 8 de noviembre en Barcelona, La (2) con la cantautora Tift Merritt abriendo buena parte de sus conciertos en esta gira europa en acústico que presenta su último disco editado el pasado 5 de marzo, "The Beast In Its Tracks".
Josh Ritter en unos días comieza su gira eléctrica con su banda The Royal City Band por Estados Unidos, Canadá y varios países europeos con plazas con entradas agotadas desde haces semanas.
«Joy To You Baby», una de las nuevas canciones de Josh Ritter, ha sido número uno en varias revistas prestigiosas musicales europeas y norteamericanas, el cantautor es uno de las jóvenes promesas de la Americana Music, ferviente prosélito de Bob Dylan, Johnny Cash, Jeff Bucklet o M. Ward en sus letras, es un genio a tener muy en cuenta con su Folk, Rock, Country y Blues rural, en la que canta a la oscuridad, a radios, a amor, a la desesperación, a los asesinos, a la muerte, o a la vida de este artista literario, genio Josh Ritter, solo escuha su primer disco de estudio homónimo "Josh Ritter" (1999), para darte cuenta de ello.
"The Beast In Its Tracks" es una auténtica delicia como podrás comprobar en unos segundos, Tift Merritt la encargada de abrir sus conciertos en España presenta su último disco «Traveling Alone», editado en octubre de 2012, otra de las grandes promesa de la música de autor en Estados Unidos y que comenzara su carrera en el 2002 con el álbum
«Bramble Rose».
Escucha el nuevo disco de Josh Ritter «The Beast in Its Tracks».