John Hiatt es Real Fine Love!!
El forajido y soberbio compositor norteamericano  John Hiatt,  regresa con un nuevo disco «Mystic Pinball»  el 25 de septiembre, muy en la senda y línea de su anterior disco «Dirty Jeans and Mudslide Hymns«.
«Mystic Pinball», está producido de nuevo por Kevin "Caveman" Shirley (Aerosmith, Led Zeppelin, Black Country Communion, Journey, The Black Crowes, o Iron Maiden entre otros), quien ya produjo su anterior y fantástico «Dirty Jeans and Mudslide Hymns».
«Mystic Pinball» es el vigésimo primer disco del sexagenario John Hiatt residente en Austin, Texas, y para quien lo desconozca,  desde mediados de los años setenta se ha labrado un gran respeto entre los más grandes músicos de Rock & Roll, Country, Soul,  Blues y Americana como Willy DeVille, Bob Dylan, Bonnie Raitt, Joan Báez, Willie Nelson, B.B. King, John Mellencamp, Eric Clapton, Ry Cooder, Nick Lowe, Dave Edmunds, o Aaron Neville, entre otros muchos,  quiénes han interpretado sus composiciones.
Escucha «We're Alright now» la canción que abre el disco de John Hiatt «Mystic Pinball»
Sus inseparables escuderos Doug Lancio a la guitarra, Kenny Blevinsa la batería y Patrick O'Hearn al bajo son el complemento perfecto para un disco repleto de maravillosas historias y música, revólveres, suicidios, cabezas volando, temores, grillos nocturnos en pantanos infectados de cochambre, balas volando, dinero, fe y muchísima sangre.
Hemos tenido la oportunidad de escuchar detenidamente la docena de proyectiles y canciones de «Mystic Pinball» de John Hiatt y palabras mayores, sin duda será uno de los disco del año.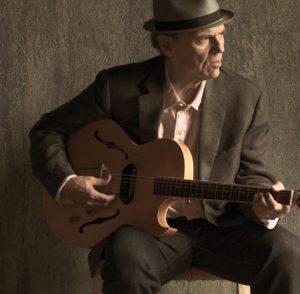 De entrada al cuello con su» We're Alright Now» una canción repleta de ironía y empirismo eficiente, todo ello embadurnado de guitarras gimiendo twang y unos coros in crescendo realmente memorables, «We're alright now, Got a love so strong,Baby, we're alright now, Even when it's wrong, Honey, it's alright now, All those battle days are gone», con una canción así es imposible no mover las piernas y levantar tu culo del asiento.
Son casi 40 años del  fértil compositor, John Hiatt en el negocio de este pura sangre con voz de lija profunda, desgarrando su agresivo estilo blusero y soul con la guitara como si fuera un tren enloquecido,  muy pocos pueden presumir de una discografía tan asombrosa.
Escucha «Blues Can't Even Find Me» del nuevo disco de John Hiatt «Mytic Ball»
«Bit Marks» y «It All Comes Back Someday» son dos sucias canciones muy a la altura de la rompe y raja que abre el nuevo disco, pero cuando llega «Wood Chipper»el disco se oscurece, entramos en el pantano Hiatt con grillos y sonidos Hammond, de repente las guitarras se empiezan a retorcer y los disparos llegan desde todos los lados, ¡qué maravilla de canción, sobre todo cuando ves llegar esa bala a tu cabeza!.
Escucha el nuevo disco de John Hiatt «Mystic Pinball» al completo.
Y lo mismo te ocurre con las restantes canciones de su genial «Mystic Pinball», aullidos y gruñidos  John Hiatt («My Business») con esas guitarras y batería llorando, John Mellencamp o hasta Bruce Springsteen pueden decir abiertamente que parte de sus sonidos descienden del infierno Hiatt.
El resto del disco es un viejo y largo viaje por ese Mid West con carreteras y canciones sudorosas, llenos de personajes imbéciles como en «You're All The Reason I Need», » One Of Them Damn Days», «No Wicked Grin», «Give It Up» o «Blues Can't Even Find Me», todas ellas cargadas de Blues, Rock y Folk terroso, sobre todo en su epílogo maravilloso de  «Blues Can't Even Find Me» en la que una suave bateria, una guitarra dobro y una maravillosa historia y voz, consuman un magnífico disco.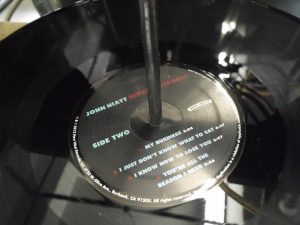 Aunque John Hiatt se sienta invisible y siga «tocando esos botones» en este cruel mundo musical y ese el Blues no acuda a su encuentro («Blues Can't Even Find Me»), nosotros desde Dirty Rock no vamos a dejarlo solo, no hay vuelta atrás. Sus grandes tratados con historias magníficas, música de raíces pura y dura, y su muchísima fuerza en  interpretaciones llenas de whisky para el dolor son prueba elocuente de lo enamorado y secuestrados que estamos por sus interpretaciones.
John Hiatt es Real Fine Love!!
Track listing de «Mystic Pinball» de John Hiatt:
1. We're Alright Now
2. Bite Marks
3. It All Comes Back Someday
4. Wood Chipper
5. My Business
6. I Just Don't Know What To Say
7. I Know How To Lose You
8. You're All The Reason I Need
9. One Of Them Damn Days
10. No Wicked Grin
11. Give It Up
12. Blues Can't Even Find Me