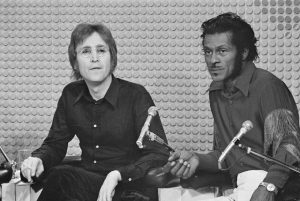 John Lennon nació un 9 de octubre de 1940. Hace más de 30 años atrás cuatro balas de cinco disparos le produjeron la muerte por parte de Mark David Chapman, un 8 de diciembre de 1980 a la entrada de su apartamento en Nueva York, el emblemático Dakota Building, con The Beatles o en solitario marcó un camino junto a otros artistas en el mundo de la música, tanto como activista político, como líder del amor y la paz.
Tenía diez años cuando mi padre trajo a casa «Double Fantasy», justo unos días después de su publicación en noviembre de 1980, aquel mismo disco que John Lennon le firmaba a su asesino aquel fatídico día a las cinco de la tarde, cerca del portal de su casa, en el que se disponía a marcharse a los estudios The Hit Factory en Nueva York, para grabar el tema «Walking on Thin Ice», tema que saldría posteriormente como tema alternativo.

Recuerdo aquel martes 9 de diciembre de 1980, el día después del asesinato de John Lennon cuando mi padre nos contó la noticia, tenía la misma edad que el cantante, llevámos escuchando «Double Fantasy» unos días en casa, pude ver por primera vez a mi padre totalmente compungido, recuerdo cómo nos explicaba la importancia de Lennon y The Beatles en la vida de muchas generaciones, y temas de aquel disco como «I'm Losing You» o «(Just Like) Starting Over» escuchados días antes de su muertes resultaron premonitorios.
John Lennon junto a su esposa Yoko Ono firmaba el disco de David Chapman con la frase «John Lennon 1980», el fotógrafo Paul Gorsesh congeló para la posteridad aquel histórico momento.
Aquella noche alrededor de las once menos cuarto su asesino lo estaba esperando en la esquina del edificio Dakota a que Yoko y John bajaran de la limusina, primero pasó ante él Yoko Ono, después John Lennon a quien gritó «Senor Lennon» y sin darle tiempo a girarse disparó cinco veces por la espalda, alcanzándole en cuatro ocasiones.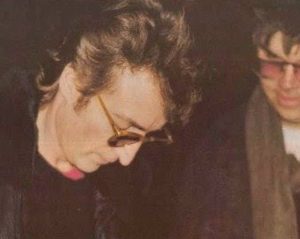 John Lennon tras sus gafas, era un inconformista, un genio y rebelde, marcados durante una dura niñez y adolescencia, autor de grandísimos himnos como «Mind Games», Imagine», «Watching the Wheels», «Give peace a Chance», «Lucy in The Sky with Diamonds», «Woman», «Working Class Hero», «Mother», «Nobody Told Me», «Jealous Guy», «Instant Karma» o «Gimme Some Truth» entre otras muchísimas canciones.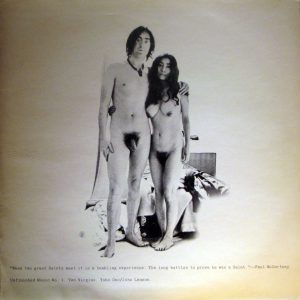 Nunca fui tan fan de The Beatles, los soy más de The Rolling Stones, la rebeldía de Lennon y George Harrison siempre me cautivaron, su palabras en un teatro donde se encontraba la reina y gritando hacia ellos dijo: «Los que estéis en los asientos más baratos aplaudid, los que estéis en lo más caros simplemente haced sonar vuestras joyas», el que provocó la locura de la quema de discos en Estados Unidos cuando se atrevió a decir que los Beatles eran «más famosos que Jesucristo», el que le cantó y desnudó en contra de la guerra de Vietnam o dijo aquello de «Imagina a toda la gente viviendo la vida en paz» o de «Si se tratase de dar al Rock and Roll otro nombre, podrías llamarlo Chuck Berry«.