The Del-Lords y The Western Sizzlers comparten cartel en una gira española entre octubre y noviembre que promete ser de infarto, The Del-Lords que presentan su último y magnífico trabajo "Elvis Club" publicado en mayo de este año y The Western Sizzlers presentando también su nuevo álbum "For Ol' Time Sake…" (2013).

The Del-Lords una de las mejores bandas de Rock de raíces norteamericana de la década de los 80, lanzaba dos décadas después en mayo de 2013 su nuevo y quinto álbum de estudio "Elvis Club", una maravilla de doce canciones en la misma senda del mejor sonido Twang, Rockabilly, Punk, Blues, Rock y Country de la costa este, incluido una versión final de "Southern Pacific" de Neil Young.
Scott Kempner (The Dictators), Eric "Roscoe" Ambel (The Yayhoos, Steve Earle, Joan Jett) Frank Funaro (Cracker, Camper Van Beethoven) son tres de los miembros fundadores de la banda más Steve Almaas componen los neoyorquinos The Del-Lords, en el que grabaron sus cuatro primeros discos entre 1984 y 1990, cuarteto claramente influenciado por la música de John Mellemcamp, Tom Petty, Long Ryders o Georgia Satellites.
The Western Sizzlers por su parte presentan en su gira española "For Ol' Time Sake…" (2013), banda procedente de Atlanta, Georgia, liderada en la sombra por Kevin Jennings el ex-manager de The Georgia Satellites, Jason & The Scorchers, The Stray Cats, Kris Kristofferson o The Black Crowes, y que la componen Charlie Starr (Blackberry Smoke) a las voces, Jeff Bakos (Jason & The Scorchers) al bajo, Toby Marriott, Nicky Ford y Rick Richards (The Georgia Satellites) y Kevin Fitzpatrick a la batería, Larue Riccio y Wayne Glass también participaron en el disco debut de una banda que cuenta con una trayectoria de más de treinta años de un explosivo Southern Country Rock y Boogie Woogie.
Escucha "Elvis Club" de The Del-Lords.
The Western Sizzlers no contarán para su gira española con Charlie Starr, pero sí con el resto de la banda incluído su mánager Kevin Jennings, que estará a los coros y armónica para presentar sus doce canciones, una de ellas versionando a Status Quo "Break the Rules".

The Western Sizzlers, combinación pefecta de unos sureños The Rolling Stones y Neil Young pasado por una batidora Country.
Escucha "For Ol' Time Sake…"  de The Western Sizzlers.
Duelo de alcohol, Rock, sudor, twang y Country con dos bandas The Del-Lords y The Western Sizzlers que prometen ser una de las mejores giras de Europa este año, sus dos discos es de lo mejorcito que se ha publicado este año 2013, "For Ol' Time Sake…", por parte de The Western Sizzlers y "Elvis Club" de The Del-Lords.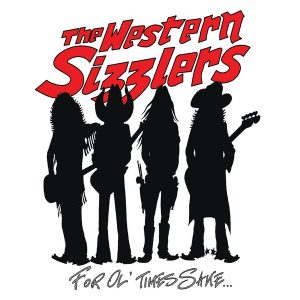 Fechas de la gira española de The Del-Lords y The Western Sizzlers:
30-oct. Monzón. Serjos ZonaRock
31-oct. Zaragoza. La Casa del loco
1-nov. Murcia. Sala Garaje
2-nov. Jerez de la frontera. Festival Serie Z
4-nov. La Coruña. Mardigras
5-nov. Cangas. Salason
6-nov. Gijón. Acapulco
7-nov. Madrid. La Boite
8-nov. Bilbao. Azkena
9-nov. Barcelona. Rocksound