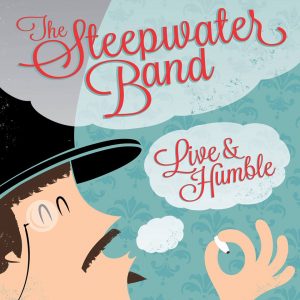 The Steepwater Band editarán disco en directo el próximo 3 de diciembre titulado "Live  Humble", acompañado de un nuevo componente, Eric Saylors, para presentarlo en España dentro de su gira europea abriéndola en Tenerife el próximo 20 de febrero de 2014.

"Live & Humble", el nuevo álbum de los norteamericanos The Steepwater Band consta de once canciones grabadas en el Ace Bar de Chicago el pasado mes de abril, cuya duración sobrepasa los setenta y cinco minutos.
The Steepwater Band posee ese fenomenal Blues eléctrico y refrito sureño desde Chicago, Foghat, Neil Young & Crazy Horse, Faces y The Rolling Stones como esencia.
Eric Saylors, el nuevo componente de la banda ex componente de Healing Sixes y reconocido músico de Chicago por haber trabajado con  Jason Bonham o  Kevin Shirley en febrero del año pasado.
Escucha "Live & Humble" de The Steepwater Band.
The Steepwater Band se originan en  la ciudad del viento, Chicago, grupo compuesto por Jeff Massey (voz y guitarra), Joe Winters (batería), Eric Saylors (guitarra) y Tod Bowers (bajo).
The Steepwater Band interpretando "Come on Down" en su directo "Live & Humble".
Escucha algunos temas del nuevo directo de The Steepwater Band "Live & Humble".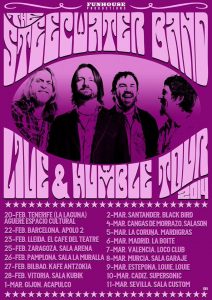 Vídeo promocional del concierto de The Steepwater Band en Tenerife.
Fechas de la gira española de The Steepwater Band en España 2014.
20 de febrero en Tenerife, La Laguna (Aguere Espacio Cultural)
22 de febrero en Barcelona (Apolo 2)
23 de febrero en Lleida (El Cafe del Teatre)
25 de febrero en Zaragoza (Sala Arena)
26 de febrero en Pamplona (Sala La Muralla, Baluarte)
27 de febrero en Bilbao (Kafe Antzokia)
28 de febrero en Vitoria (Sala Kubik)
1 de marzo en Gijón (Sala Acapulco)
2 de marzo en Santander (Black Bird)
4 de marzo en Cangas del Morrazo (Salason)
5 de marzo en la Coruña (Mardigras)
6 de marzo en Madrid (Boite Live!)
7 de marzo en Valencia (Loco Club)
8 de marzo en Murcia (Sala Garaje)
9 de mazo en Estepona (Louie Louie)
10 de marzo en Cádiz (Supersonic)
11 de marzo en Sevilla (Sala Custom)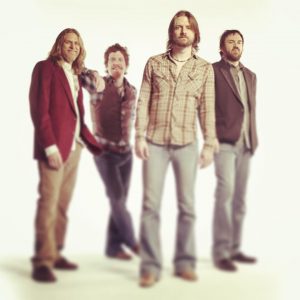 The Steepwater Band son cuarteto lleno de pura alma sin precio, sus raíces y devoción están ahí, pero han demostrado su evolución con sus discos desde que se formaron en 1998 con Goin' Back Home, Brother to the Snake, Dharmakaya, Revelation Sunday, Songs From the Eighth Day (fantástico disco de versiones, donde Tyla de Dogs D'Amour realiza la portada del disco) Grace And Melody (producido por el ex Black Crowe, Marc Ford), Live at the Double Door y Clava. Michael Connelly perteneció como integrante de la banda desde su primer álbum hasta su posterior abandono en el año 2004 en Dharmakaya. Conelly incorporó a la banda arreglos de piano-órgano, armónica, guitarra y voz.
Tracklist de "Live & Humble", nuevo disco en directo de The Steepwater Band:
Remember the Taker
Off the Rails
At the Fall of the Day
Come On Down
Dance Me a Number
High and Humble
Meet Me In the Aftermath
Boom Boom / How Many More Times
My Back Pocket
All the Way to Nowhere
World Keeps Moving On