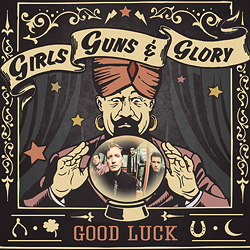 Girls Guns and Glory tienen nuevo álbum que lleva por título "Good Luck" , que se pondrá a la venta en Europa el 7 de diciembre y en Estados Unidos la segunda semana del enero de 2014. Disco de diez nuevas canciones que serán presentado el próximo mes de diciembre en España dentro de su gira europea que recorrerá países como Francia, Suiza, Holanda y Bélgica.
Los bostonianos regresan de nuevo a España tras su exitosa gira el año pasado en diciembre presentando sus anteriores trabajos "Sweet Nothings" (2011) y su  EP "Milltown Session".
Escucha «All the Way to Heaven», primer adelanto del nuevo disco de Girls Guns & Glory «Good Luck».
La música de Girls Guns and Glory oscila entre el Honky Tonk Rock & Roll y Country de la vieja escuela, transformándose su cantante y compositor Ward Hayden en Dwight Yoakam y Roy Orbison, y rendidos claramente bajo el influjo de Hank Williams y John Prine.
Girls Guns and Glory naturales de la ciudad de Boston, ciudad naciente de nuevos talentos de la Americana Music y Roots como Eilen Jewell, Sara Borges o los nominados recientemente a los premios Boston Music Awards 2012,  Kingsley Floo. 
«All the Way up to Heaven» es el tema elegido por  Girls Guns & Glory para promocionar su nuevo disco «Good Luck».
El estado de Massachusetts cuenta con el Lowell Folk Festival o el legendario New England Folk Festival como embriones de ese caldo de cultivo de futuros y grandes nombres del género como lo fueron y son Jonathan Richman o James Taylor.
Girls Guns and Glory lo componen Ward Hayden (voz y guitarra),  Chris Hersch (guitarra eléctrica), Paul Dilley (contrabajo y bajo) y Josh Kiggans (batería) y llevan publicados cuatro discos Fireworks & Alcohol (2006), Pretty Little Wrecking Ball (2007), Inverted Valentine (2008), Sweet Nothings (2011) y su EP de rarezas y canciones inéditas llamado "Milltown Session" (2011).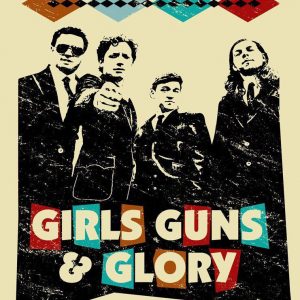 Fechas de la gira española de Girls Guns and Glory 2013:
11 diciembre en Barcelona (Rocksound)
12 diciembre en Madrid (Boite Live)
13 diciembre en Zaragoza (La Casa del Loco) + The Quireboys
14 diciembre en Vitoria (Jimmy Jazz) + The Quireboys