Blind Willie Johnson de la mano del productor Jeffrey Gaskill, tendrá un disco tributo tras materializarse en menos de dos semanas una campaña de recaudación de fondos para poder financiar un disco de versiones titulado «God Don't Never Change: The Songs of Blind Willie Johnson», en el que partipan grandes nombres como Tom Waits, los Blind Boys of Alabama, Sinead O'Connor, Lucinda Williams, Luther Dickinson, Rickie Lee Jones, Susan Tedeschi, Cowboy Junkies y Derek Trucks, el próximo 26 de febrero de 2016.
Blind Willie Johnson, el invidente natural de Texas, uno de los más grandes bluesman de la historia grabó treinta canciones en cinco sesiones entre 1927 y 1930, su voz rasgada y profunda, su manera de tocar y crujir su guitarra hecha con una caja de puros, pionero en el slide guitar, sus letras, unas apoyadas en la Biblia y otras en su esposa, lo convirtieron en uno de los precursores del Blues más diabólico y auténtico referente de la música Gospel a partir de los años treinta.
Las letras y música de Blind Willie Johnson influenciaron a artistas de la talla de Son House, como no John The Revelator, Fred McDowell, Led Zeppelin, Grateful Dead, Tom Waits (el Blind Willie Johnson de los últimos 40 años), Bob Dylan, Ry Cooder, o Steve Vai entre otros.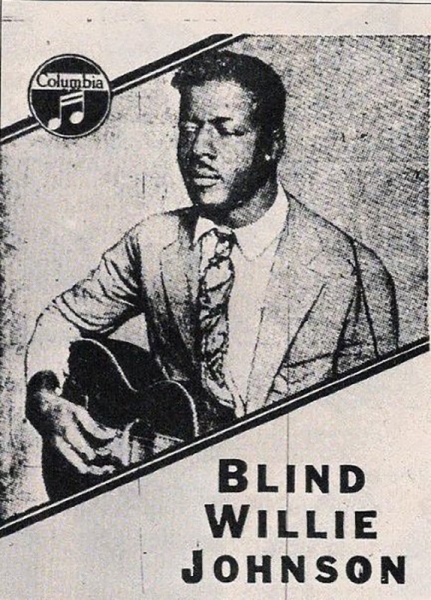 Escucha «God Don't Never Change: The Songs of Blind Willie Johnson»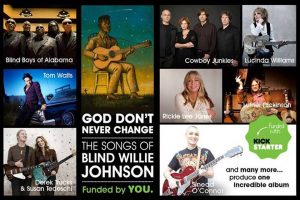 Listado de canciones de God Don't Never Change: The Songs Of Blind Willie Johnson
1 Tom Waits: The Soul of a Man
2 Lucinda Williams: It's Nobody's Fault But Mine
3 Derek Trucks and Susan Tedeschi: Keep Your Lamp Trimmed and Burning
4 Cowboy Junkies: Jesus Is Coming Soon
5 The Blind Boys of Alabama: Mother's Children Have a Hard Time
6 Sinéad O'Connor: Trouble Will Soon Be Over
7 Luther Dickinson: Bye and Bye I'm Going to See the King [ft. The Rising Star Fife & Drum Band] 8 Lucinda Williams: God Don't Never Change
9 Tom Waits: John the Revelator
10 Maria McKee: Let Your Light Shine on Me
11 Rickie Lee Jones: Dark Was the Night, Cold Was the Ground
Predicaba en sus lamentos la crisis económica de 1929, la pobreza o la situación actual en las calles, su canción instrumental «Dark was the Night, Cold was the Ground», sobre la crucifixion y la resurrección de Cristo, se lanzó al espacio en la sonda Voyager en 1977,para representar la diversidad de la vida en la tierra, la gran mayoría de sus temas fueron cantados en iglesias, algodoneros y agricultores y sobre todo prisioneros en campos de concentración, los «Chain gang» cantando aquello de «God Don`t Never Change» (Dios nunca cambia).
El director de cine Wim Wenders le dedicó a Blind Willie Johnson  un capítulo «The Soul of a Man» (El alma de un hombre) en la serie The Blues, producida por Martin Scorsese