Gov't Mule publica "Shout!" su décimo álbum de estudio compuesto por once canciones, y que viene con el añadido de un cd con los mismos temas pero versionados por la banda de Warren Hayes por invitados de la talla de Ben Harper, Elvis Costello, Dr. John, Jim James (My Morning Jacket), Grace Potter, Toots Hibbert (Toots & the Maytals), Glenn Hughes (Deep Purple, Black Sabbath o Black Country Communion), Ty Taylor, Dave Matthews, Myles Kennedy (Slash o Velvet Revolver) y Steve Winwood que sale a la venta el próximo 24 de septiembre, debutando para el sello discográfico Blue Note Records.
Gov't Mule, es un super cuarteto de brillantes músicos que ejecutan como nadie Rock Blues Southern de manera primorosa, liderados por el magnífico Warren Haynes, cantante y guitarrista de Allman Brothers Band en la actualidad, Matt Abbs, batería de Allman Brothers Band y miembro durante muchos años de la banda de Dickey Betts, Danny Louis, teclados y magnífico multi-instrumentalista y músico de Gregg Allman, Levon Helm, The Cars, Joe Cocker, o UB-40 y Jorgen Carlsson al bajo.
Escucha "Shout!", el nuevo disco de Gov't Mule.
Escucha "Funny Little Tragedy" con Elvis Costello y Gov't Mule.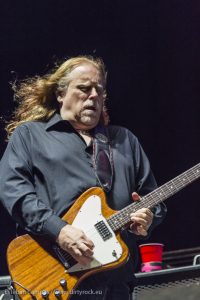 Gov' Mule publicaron el pasado año "The Georgia Bootleg Box", compuesto por seis cd's, compuesto por conciertos en directo, durante tres noches en Georgia, en 1996, grabadas en directo el 11 de abril en The Georgia Theatre en Athens, el 12 de abril en The Roxy de Atlanta y el 13 en el Elizabeth Reed Music Hall de Macon, aún con el fallecido Allen Woody, y las colaboraciones de Derek Trucks y Tinsley Ellis.
El anterior disco de estudio de Gov' Mule, "By a Thread" se mezcló en los estudios de Willie Nelson, Pedernales Studio,  al igual que el último de Warren Haynes "Man in Motion", y revisando las últimas actuaciones de la banda el sonido irá por derroteros del Blues, Rock, Jazz, Funky y Reggae con el tema compartido con Toots Hibbert de Toots & the Maytals.
Tracklist de "Shout!" de Gov't Mule:
Disco 1:
1. World Boss
2. No Reward
3. Whisper In Your Soul
4. Captured
5. Scared To Live
6. Stoop So Low
7. Forsaken Savior
8. Done Got Wise
9. When The World Gets Small
10. Funny Little Tragedy
11. Bring On The Music
Disco 2:
1. World Boss con Ben Harper
2. Funny Little Tragedy con Elvis Costello
3. Stoop So Low con Dr. John
4. Captured con Jim James
5. Whisper In Your Soul con Grace Potter
6. Scared To Live con Toots Hibbert
7. No Reward con Glenn Hughes
8. Bring On The Music con Ty Taylor
9. Forsaken Savior con Dave Matthews
10. Done Got Wise con Myles Kennedy
11. When The World Gets Small con Steve Winwood