Peter Seeger, último icono vivo del Folk y los derechos civiles en Estados Unidos falleció ayer lunes 27 de enero a los 94 años de edad, creador de obras maestras como Bring 'em Home, Torn flag, If I had a hammer, We Shall Overcome, This Land is your land, Where have all the Flowers Gone?, Turn Turn Turn o Waist deep in the big muddy.
Pete Seeger cantó para el movimiento sindicalista de los años cuarenta y cincuenta, marchas del movimiento de defensa de los derechos civiles y en los mítines contra la Guerra de Vietnam en los años 60, con la canción como elemento de poder usando su voz como un martillo para golpear por los derechos de los trabajadores y los derechos civiles, la conservación de la paz y el medio ambiente mundial.
Pete Seeger amigo de Woody Guthrie y guía musical de Bob Dylan, Joan Báez, Steve Earle, Bruce Springsteen, John Mellencamp, Ben Harper, Jeff Tweedy o Billy Bragg entre otros, fue un ferviente coleccionista, restaurador y archivador impagable del legado folk estadounidense, género que siempre defendió y ayudó a difundir, siendo suyas son muchas de las más célebres canciones protesta del siglo veinte.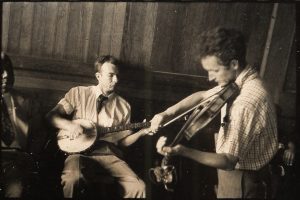 Pete Seeger fue componente de The Almanac Singers, con la que grabó el álbum «Historias del Batallón Lincoln» en apoyo a la Segunda República española así como canciones de apoyo a las tropas estadounidenses, o The Weavers.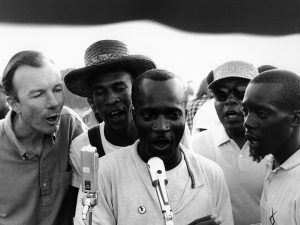 Pete Seeger tras volver de la Segunda Guerra Mundial fundó la compañía People's Songs, dedicada a composiciones musicales de contenido político de izquierdas, siendo perseguido en la «caza de brujas» por haber pertenecido al Partido Comunista, también fue condenado a diez años de cárcel, aunque no llegó a ingresar en prisión.
Pete Seeger al cumplir 90 años en Nueva York el 2009, se celebró un concierto homenaje con lo mejor de la música estadounidense (Kris Kristofferson, Ramblin' Jack Elliott, Richie Havens, Warren Haynes, Taj Mahal, Bruce Springsteen, John Mellencamp, Patterson Hood, Billy Bragg, Steve Earle, Buddy Miles, Teddy Thompson, Joan Báez, Emmylou Harris o Preservation Hall Jazz Band entre otros), su legado encierra casi un siglo de historia y cultura estadounidense, sus canciones narran cuentos de la gente común y sus hechos extraordinarios y muestran a su autor en la encrucijada del pasado y el futuro, poniendo su propio sello en el patrimonio de la canción popular de los Estados Unidos, mientras que está transfiriéndolas a generaciones venideras.